The word "grammar" can be a bit intimidating, especially when learning a new language. 
If you're considering learning Portuguese but are worried about how complicated the grammar is, you are in the right place! This guide will give you an overview of the main Portuguese grammar topics and show you that there's nothing to be afraid of.
By taking a quick look at the sentence structure, verbs, and grammatical gender and number, you'll be prepared to handle whatever comes your way. Then, as you continue learning this amazing language, you can always use this overview as a handy reference. 
Buckle up for a fast-paced ride! It's time to discover the ins and outs of Portuguese grammar.
Table of Contents
1. General Rules
First things first: Learning the basic Portuguese grammar rules really isn't that complicated. There are a few aspects that pose some challenge, and we suggest tackling those head-on. We'll do our best to make even those complicated bits easier to understand. 
As an English speaker, you'll be glad to learn that Portuguese and English have a lot in common! The languages share similar grammatical structures and even vocabulary, giving you an advantage. 
One similarity you'll encounter from the beginning is the word order, which dictates how the sentence is structured. Both Portuguese and English follow the Subject + Verb + Object structure. 
Every sentence is composed of parts that make the whole, and here we find more similarities between the two languages. Many of the parts of speech we use in Portuguese will be familiar to you. These include articles, nouns, verbs, adjectives, adverbs, prepositions, pronouns, and more.
Verbs, in particular, can get a little tricky in Portuguese. We have regular verbs (and we love them!), but we also have to deal with irregular ones. Portuguese verb conjugation introduces different tenses, moods, and people to the mix. It's a complex topic, but once you learn it, you will have conquered the bulk of Portuguese grammar!
There are a few unfamiliar concepts you'll need to get a handle on when learning Portuguese grammar as an English speaker. One of them is the way grammatical gender changes the parts of speech. Words like articles and adjectives have to match the gender of the noun, which many new learners find a bit strange. Luckily, this aspect of grammar isn't too complex and you'll soon be comfortable with it.
Now, let's take a closer look at each of these aspects.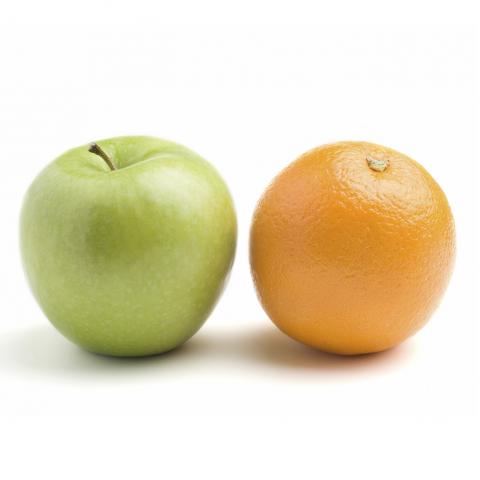 English and Portuguese are not all that different.
2. Sentence Structure
The sentence structure refers to the word order in a sentence. There are three main "building blocks" used to form sentences:
1. Subject: Indicates who or what performs the action in the sentence
2. Verb: Describes an action, state, or natural phenomenon
3. Object: Noun or noun phrase acted upon by the subject
Take this sentence as an example:
Eu

acordo

cedo

. ("

I

wake up

early

.")
As you can see, this basic sentence follows the same structure in both Portuguese and English. And, unlike other languages like French, you won't be learning any complex inversions for asking questions in Portuguese. 
Unlike in English, however, subjects can be implied in Portuguese. Many sentences omit the subject, but people know who or what the subject is thanks to the way the verb is conjugated. 
Viu

aquilo

? ("

Did

you

see

that?")
Another important difference to keep in mind is that, in Portuguese, the adjective usually follows the noun it refers to. For example:
Ela gosta de

vinho

tinto

. ("She likes

red

wine

.") 
However, there are some situations where the adjective comes before the noun. 
The sentence structure we just saw is the most basic one. As we create more complex sentences and add information, we use modifiers such as adjectives, adverbs, numerals, and more. 
But as you begin your Portuguese learning journey, stick to the basics. As you progress, you'll have plenty of opportunities to discover more.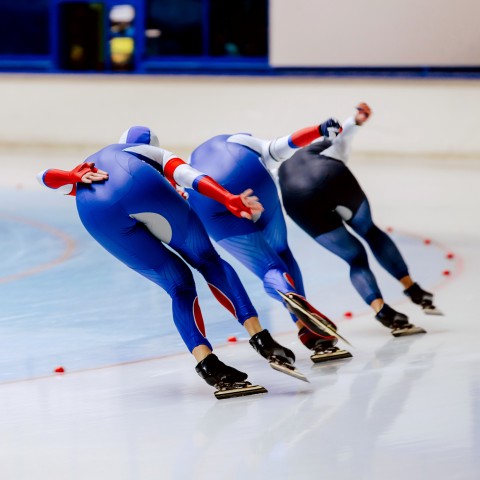 Subject + Verb + Object
3. Building Blocks
There are several types of words that go into building sentences. After all, you can't create a sentence with only verbs or only nouns. 
Luckily, the word types in Portuguese are familiar to English speakers. If you already know a Romance language, even better! 
The Portuguese word classes or types are:
Verbs

indicate actions, occurrences, or states of being.
Eu

como

muito. ("I

eat

a lot.")
Nouns

function as the name of objects, people, places, or ideas. Nouns have gender, as you'll see later on.
A cama ("The

bed

")
Articles

precede a noun. They can be definite or indefinite, and change according to gender and number. 


Os

carros ("

The

cars")
Adjectives

modify or describe a noun. Adjective placement may vary, but in most cases it comes after the noun.
A casa pequena ("The

small

house")
Possessive

adjectives are words that indicate to whom a noun belongs.


Meu

irmão ("

My

brother")
Adverbs

modify words other than nouns and typically express manner, time, frequency, and place. You can identify Portuguese adverbs of manner by the ending -ente (similar to the English ending -ly).
Ele caminha

lentamente

. ("He walks

slowly

.")
Demonstrative pronouns

are words that indicate what is being referred to. 


Este

livro ("

This

book")
Pronouns

are words that substitute for a noun to avoid repetition.


Nós

ganhamos o jogo. ("

We

won the game.")
Conjunctions

connect other words or phrases.
Você quer café

ou

chá? ("Do you want coffee

or

tea?")
Prepositions

are words that express spatial, directional, and temporal relations between parts of a sentence.
Ela jogou

contra

mim. ("She played

against

me.")
These word classes all play a part in the language. As you advance in your lessons, you'll enrich your vocabulary and learn words from all different classes, giving you a lot more freedom to build your own sentences.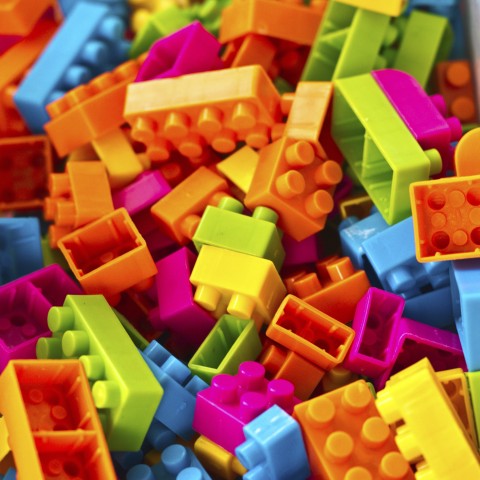 Every "building block" has a place in the sentence.
4. Verbs
Verbs and their conjugation are a vast world in Portuguese. You'll encounter many rules and, as always, several exceptions while learning the topic. 
Here are some basic concepts to keep in mind.
1 – Verb Endings
Portuguese has three main verbal groups, characterized by their different endings. These verb endings are  -AR, -ER, and -IR. For example:
Am

ar

("To love")
Corr

er

("To run")
Discut

ir

("To discuss" / "To argue")
Why are the verb endings important, you ask? Well, they're helpful because regular verbs in a given group will conjugate the same way as other regular verbs in that group. The stems of the verbs remain the same in each of the different conjugations and the endings are predictable.
Of course, Portuguese also has irregular verbs which do not obey the same rules. Some of them even end in -OR, such as supor ("to suppose" / "to assume"). These derive from the second conjugation (-ER), having had their 'e' suppressed as the language evolved.
2 – Conjugation
Verbs change their form depending on several factors, including person, mood, tense, and voice.
Person and tense are the most basic factors you should keep in mind. When we talk about grammatical person, we are referring to the pronouns. 
| | | |
| --- | --- | --- |
| 1st person singular | Eu | I |
| 2nd person singular | Tu / Você | You |
| 3rd person singular | Ele / Ela | He / She |
| 1st person plural | Nós | We |
| 2nd person plural | Vós / Vocês | You (plural) |
| 3rd person plural | Eles / Elas |   They (male) / They (female) |
In Portuguese grammar, tenses are categorized as being simple or compound. The compound ones use another verb (called an auxiliary) alongside the main verb. As you learn Portuguese, you should focus first on the most-used tenses: the simple present, simple past, and simple future. 
By putting together the verb endings and the conjugation basics, we can get an idea of how regular verbs look in sentences.
Verb amar ("to love"), 1st person singular
Eu amo este filme. ("I love this movie.")
Verb correr ("to run"), 3rd person plural
Elas correm todo sábado. ("They run every Saturday.")
Verb discutir ("to discuss" / "to argue"), 1st person plural
Nós discutimos ontem. ("We argued yesterday.")
Here's a more in-depth look at how regular verbs are conjugated based on their ending, in the simple present tense.
-AR verbs
-ER verbs
-IR verbs
Eu
Stem + o
Amo
Stem + o
Corro
Stem + o
Discuto
Tu
Stem + as
Amas
Stem + es
Corres
Stem + es
Discutes
Você/Ele/Ela
Stem + a
Ama
Stem + e
Corre
Stem + e
Discute
Vós
Stem + amos
Amamos
Stem + emos
Corremos
Stem + imos
Discutimos
Nós
Stem + ais
Amais
Stem + eis
Correis
Stem + is
Discutis
Vocês/Eles
Stem + am
Amam
Stem + em
Correm
Stem + em
Discutem
3 – The Verb "To Be"
Unlike English, Portuguese has two verbs that translate as "to be": ser and estar. You can think about the difference between them in terms of permanence and impermanence. 
You can be tall, Canadian, or a doctor. Those are all qualities that are permanent or static in the long-term. 
For example: Eu sou loira. ("I am blonde.")
The verb ser conjugates as follows in the simple present tense: 
Eu

sou

Nós

somos

Tu

és

Vós

sois

Ele / Ela / Você

é

Eles / Elas / Vocês

são
→ Impermanent "to be":

estar
You can be temporarily cold, in a location, or angry. Estar is used with qualities that are not lasting in the long-term.
For example: Ela está nervosa. ("She is nervous.")
Here is how the verb estar conjugates in the simple present tense:
Eu

estou

Nós

estamos

Tu

estás

Vós

estais

Ele / Ela / Você

está

Eles / Elas / Vocês

estão
Both verbs also act as auxiliary verbs in specific compound tenses. 
Vocês

estão

estudando? ("Are you [plural] studying?")
Ela

foi

fotografada na praia. ("She was photographed at the beach.")
There are many more auxiliary verbs you'll often see in Portuguese, such as the verb ir ("to go"), ter ("to have"), and poder ("can").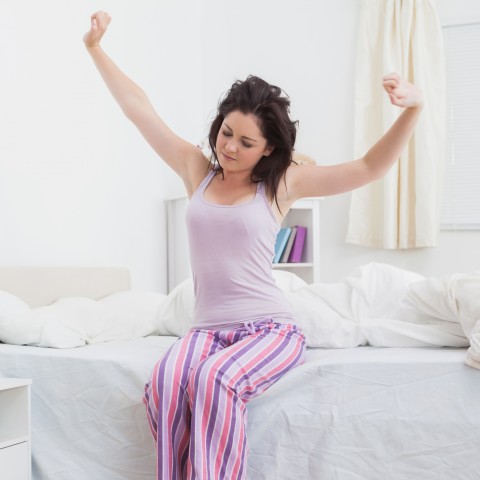 Acordar ("to wake up") is a verb of the -AR group.
5. Gender and Number Agreement
As hinted at before, some word classes need to agree with the nouns in gender and number. The concept of nouns having gender is a bit unfamiliar to English speakers. But don't worry; with practice, you'll get the hang of it without too much trouble!
1 – Nouns
Nouns can be masculine, feminine, or both. Some can even change gender depending on the context! Yes, even inanimate objects. 
| | |
| --- | --- |
| Feminine nouns | Masculine nouns |
| Faca ("Knife") | Garfo ("Fork") |
| Cama ("Bed") | Colchão ("Mattress") |
| Televisão ("Television") | Computador ("Computer") |
| Mulher ("Woman") | Homem ("Man") |
| Mãe ("Mother") | Pai ("Father") |
As a rule of thumb, nouns that end in –o tend to be masculine and nouns that end in –a tend to be feminine. Please note that this isn't always the case, as in these examples:
Rádio ("Radio") can be feminine or masculine, and each one has a different meaning even though the spelling of the word doesn't change. How do you know which rádio is being referred to? Either by the article used or by the context.

Masculine: o rádio. Used to talk about the radio set, the object.
Feminine: a rádio. Used to talk about the radio transmitting station or the communication medium.
Criança ("Child") is a noun with a set grammatical gender and works for both male and female children. Even though the feminine article is always used, it can be used to talk about a boy or a girl. 

Masculine: Ele é uma criança inteligente. ("He is a smart child.")
Feminine: Ela é uma criança feliz. ("She is a happy child.")
Colega ("Colleague") is another noun that doesn't change its spelling, but can be used to talk about males or females. However, the article and adjectives change depending on the gender.

Masculine: Ele é o novo colega. ("He is the new colleague.")
Feminine: A Maria é a colega que teve um bebê. ("Maria is the colleague that had a baby.")
2 – Articles
Portuguese nouns are preceded by definite or indefinite articles which vary depending on the gender of the noun. Likewise, different articles are used when a noun is plural.
Definite article
Indefinite article
Feminine singular

A

→

A

cama ("

The

bed") 

Uma

→

Uma

cama ("

A

bed")
Feminine plural

As

→

As

facas ("

The

knives")

Umas

→

Umas

facas ("

Some

knives")
Masculine singular

O

→

O

colchão ("

The

mattress")

Um

→

Um

colchão ("

A

mattress")
Masculine plural

Os

→

Os

garfos ("

The

forks")

Uns

→

Uns

garfos ("

Some

forks")
3 – Adjectives
Adjectives also have to agree with the noun in gender and number. 
Some adjectives will change depending on gender, while others don't. For example:
Inteligente ("Smart" / "Intelligent")
Ela é

inteligente

. ("She is smart.")
Ele é

inteligente

. ("He is smart.")
Bonita ("Beautiful" / "Pretty" / "Handsome")
Ela é

bonita

. ("She is pretty.")
Ele é

bonito

. ("He is handsome.")
Once again, most of the feminine adjectives end in -a, while the masculine adjectives end in -o.
The plural form of the adjectives is very straightforward. Simply look for an -s at the end:
Os gatos são

medrosos

. ("The cats are fearful.") – masculine
As modelos são

altas

. ("The models are tall.") – feminine
Discover the top 50 most common adjectives in Portuguese with PortuguesePod101.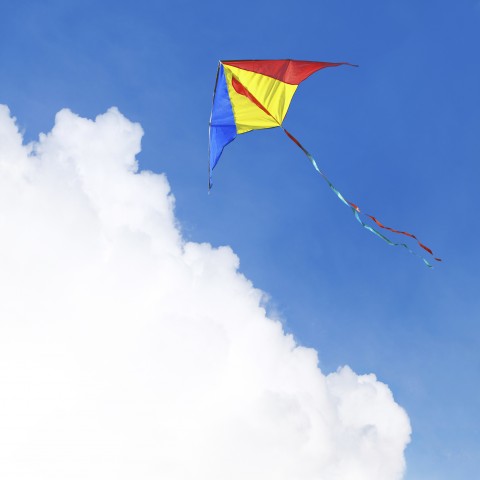 A pipa, o céu. ("The kite, the sky.")
6. Learn More Portuguese with PortuguesePod101
We hope our overview of the Portuguese grammar basics was helpful to you, and that you're now feeling more confident as you embark on this amazing language learning journey!
You can also use this page as a refresher or reference point whenever you need a quick explanation of a Portuguese grammar element. Feel free to come back to it as many times as you want.
Are you now ready to start learning more Portuguese? Do you think we forgot an important aspect that you would like covered? Let us know in the comments!
To boost your skills and take them to the next level, continue exploring PortuguesePod101.com. There are lots of free Portuguese grammar resources and themed vocabulary lists to get you started on the right foot. Go ahead and choose your favorite tools to increase your learning opportunities.
If you want to take your learning experience further, members of PortuguesePod101.com get access to the largest language lesson library in the world, with thousands of real lessons by real teachers. Perfect for anyone who wants to learn from anywhere, feel motivated, and be ready to speak Portuguese with confidence. 
Happy learning!
December 20, 2019
Do you sometimes wish the weekends had more days? When are your next vacations? Do you know your best friend's birthday? If you want to answer any of those questions in Portuguese, you first need to learn how to talk about dates in Portuguese. Then, you'll be able to do many more things, like making plans, arranging meetings and celebrating anniversaries!
Talking about dates is a part of everyday interactions. Every time you need to solve some bureaucracy, you need to write your date of birth or indicate today's date. When making plans with your friends, you better know the days of the week to avoid mix-ups. And if you are a history buff, then you know dates are a must-know! 
Today, you will learn how to write the date in Portuguese, as well as how to talk about it. And of course, if we are talking about dates, we also need to talk about numbers, so you will see plenty of them in this article. To make sure you know how to use all of that properly, we will also go through common phrases related to Portuguese dates and times, including useful questions and answers. 
If you are ready to celebrate important dates with your family, friends or significant other, or anxious to learn how to book appointments and meetings in Portuguese… let's get started!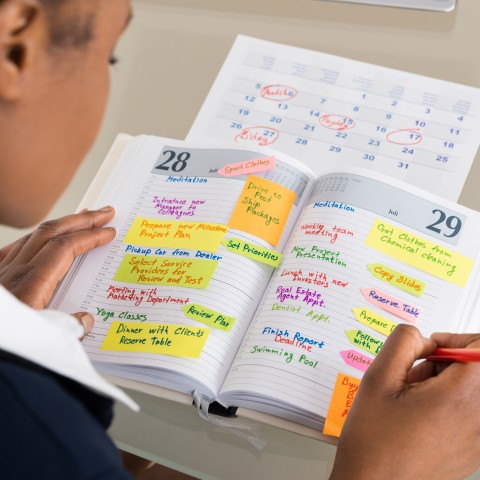 Learn how to talk about your busy schedule in Portuguese!
Table of Contents
1. How to Tell the Date
Depending on where you are from, you might be used to a different way of telling the date when compared to Brazil or Portugal. But once you get used to the correct format of Portuguese dates, things are straightforward enough.
2 – Format of Dates in Portuguese: Day/Month/Year
Before anything else, let's take a look at the basic Portuguese vocabulary related to dates.
| | |
| --- | --- |
| Dia | "Day" |
| Mês | "Month" |
| Ano | "Year" |
| Semana | "Week" |
| Dia da semana | "Weekday" |
| Fim de semana Final de semana | "Weekend" |
| Data | "Date" |
When writing or talking about dates in Portuguese, the usual order is Day, Month and Year. If you are filling a form, you will usually see the date using slashes as separators: DD/MM/YY. 
In more formal texts, it is normally written down in the same way it is said: day + de ("of") + month + de ("of")  + year.
Here are some examples to make it clear:
07/09/1822 – Brazilian Independence Day
25 de abril de 1974 – Revolução dos Cravos ("Carnation Revolution" in Portugal)
12 de junho – Dia dos Namorados ("Valentine's Day" in Brazil)
2 – Talking About Dates
Imagine you are in the doctor's office, and she asks you what your date of birth is. In this case, you could simply answer using the format discussed above: day, month, year.
But in most situations, you'll probably be using the date in the middle of a sentence. In those situations, there are some things to pay attention to:
Preposition
Use of the word dia ("day")
How to say the numbers
Consider adding the day of the week
We will go point by point to make sure each item is clear.
1. Preposition
Take a look at the sentences below.
Eu nasci em 15 de abril de 1995. 
"I was born on April 15, 1995."
Eles se conheceram no dia 25 de dezembro.
Literally: "They met on the (day) 25th of December."
Eles viajarão em maio. 
"They will travel in May."
Minha mãe nasceu em 1960. 
"My mother was born in 1960."
Did you notice what these sentences have in common? Hint: look at the preposition.
In Portuguese, before each date, we use the preposition em ("in") or its contraction em + o = no ("in" + masculine definite article "the").
2. Add the Word Dia
It's very common to use the word dia ("day") before the date if talking about a particular day. 
Eu tenho consulta no dia 14 [deste mês]. 
"I have an appointment on the (day) 14th [of this month]."
Just like in English, if you only say the day without any extra information, people will assume you are talking about the 14th of this month – or the next month, if we are already past the 14th.  
Also note that dia is a masculine word. For this reason, you need to use no (contraction em + o) before the word dia.
3. How to Say the Numbers
In Portuguese, we almost always use cardinal numbers to talk about dates (both days and years). The only exception is the first day of each month, for which we use the ordinal number.
Dia 24 (vinte e quatro) de janeiro.
"Day 24 (twenty-four) of January "
Dia 1º (primeiro) de abril –  Dia da Mentira
"Day 1st (first) of April – April Fool's day"
4. Add the day of the week
Sometimes it is a good idea to add the day of the week to make things clearer. For example, if you are scheduling a lunch with a friend or a job interview, you can say the day of the week before the date.
Está marcado para quarta-feira, dia 02 de junho.
Literally: "It is scheduled for Wednesday, (day) 2nd of June."
Nos encontraremos na segunda-feira, dia 31 de outubro.
"We will meet on Monday, (day) 31st of October."
When using the day of the week in front of the date, the preposition may change a bit. In most cases, you will still use the preposition em. However, it needs to agree on gender with the day of the week. We will look into the days of the week in-depth later in this article. For now, just remember that for feminine days of the week, the contraction is na (em + a), and for the masculine days, use the contraction no (em + o).
➜ Hint: when you can substitute the preposition for "in" or "on" in English, it is a safe bet to use em and its contractions.
In some other cases, you will need to use the preposition para ("to"). 
➜ Hint: use para + article when you would use "to" in English. 
3 – Mixing and Matching
Here are some of the several ways you can talk about dates using the information we've seen so far.
Talking about the day:
Hoje é o dia 09.
"Today is the 9th." or literally: "Today is the day 9."
Amanhã é domingo.
"Tomorrow is Sunday."
Nas quartas-feiras, ele vai ao teatro.
"On Wednesdays, he goes to the theater."
Talking about the month:
Estamos em maio.
"We are in May." or "It is May."
Ele nasceu em novembro.
"He was born in November."
Talking about the year:
Estamos em 1845. 
"We are in 1845." or "It is 1845."
Eu me formei em 2020.
"I graduated in 2020."
No ano de 1990, muitas coisas aconteceram.
"In the year 1990, many things happened."
And putting it together, we have:
Hoje é dia 15 de novembro.
Literally: "Today is day 15 of November."
Estamos em julho de 2009.
"It is July 2009." or literally: "We are in July of 2009."
Nos mudamos em 9 de março de 2019.
"We moved on March 9th, 2009." or literally: "We moved on 9 of March of 2019."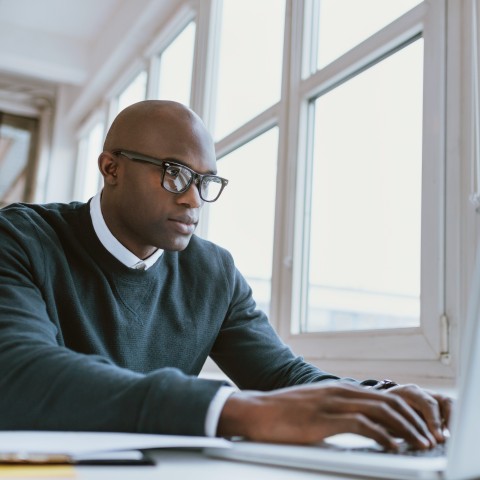 Tenho que terminar este projeto até dia 10, sexta-feira. ("I have to finish this project by 10th, Friday.")
2. How to Say the Days
1 – The Numbers
The first thing you need to know to talk about days is the numbers from 1 to 31.
As mentioned before, in Portuguese we use cardinal numbers (the most basic form of the numbers). The only exception is when referring to the first day of the month. In this case, we use the ordinal form: primeiro ("first").
| | | | | | |
| --- | --- | --- | --- | --- | --- |
| Number | 1 | 2 | 3 | 4 | 5 |
| Dia ("Day") | Primeiro | Dois | Três | Quatro | Cinco |
| | | | | | |
| --- | --- | --- | --- | --- | --- |
| Number | 6 | 7 | 8 | 9 | 10 |
| Dia ("Day") | Seis | Sete | Oito | Nove | Dez |
| | | | | | |
| --- | --- | --- | --- | --- | --- |
| Number | 11 | 12 | 13 | 14 | 15 |
| Dia ("Day") | Onze | Doze | Treze | Quatorze | Quinze |
| | | | | | |
| --- | --- | --- | --- | --- | --- |
| Number | 16 | 17 | 18 | 19 | 20 |
| Dia ("Day") | Dezesseis | Dezessete | Dezoito | Dezenove | Vinte |
| | | | | | |
| --- | --- | --- | --- | --- | --- |
| Number | 21 | 22 | 23 | 24 | 25 |
| Dia ("Day") | Vinte e um | Vinte e dois | Vinte e três | Vinte e quatro | Vinte e cinco |
| | | | | | | |
| --- | --- | --- | --- | --- | --- | --- |
| Number | 26 | 27 | 28 | 29 | 30 | 31 |
| Dia ("Day") | Vinte e seis | Vinte e sete | Vinte e oito | Vinte e nove | Trinta | Trinta e um |
2 – Weekdays and Weekends
Now that you know how to say the days, what about the dias da semana ("days of the week")?
You will see that it's very easy to remember these days of the week in Portuguese, since they follow a simple format. For Monday through Friday, simply use the ordinal numbers! Since Sunday is the first day of the week, Monday is the second, and so on. 
Let's start with the weekdays, called dias úteis in Portuguese (literally meaning "useful days").
| | | |
| --- | --- | --- |
| Dias úteis | Weekdays | Common abbreviation |
| segunda-feira | Monday | 2a |
| terça-feira | Tuesday | 3a |
| quarta-feira | Wednesday | 4a |
| quinta-feira | Thursday | 5a |
| sexta-feira | Friday | 6a |
Some things to note:
Monday through Friday are feminine words in Portuguese.
Days of the week are written in lower case in Portuguese, as shown in the table.
Weekdays always end up with -feira (a word that comes from the Latin feria, and refers to days other than Sunday). Most romance languages use the Latin names for the days of the week, which make reference to pagan gods. Portuguese is an exception, due to Christian influence in Portugal.
However, in everyday situations, it's quite common to also say only the first part: segunda, terça, quarta, quinta and sexta. 
Now, time to learn about the best part of the week: o fim de semana or o final de semana ("the weekend"). Note that both words below are masculine.
| | | |
| --- | --- | --- |
| Fim de semana | Weekend | Common abbreviation |
| sábado  | Saturday | sab. |
| domingo  | Sunday | dom. |
Sábado comes from the Sabbath. Domingo comes from the latin Dominicus (Dominica), meaning "the Lord's Day".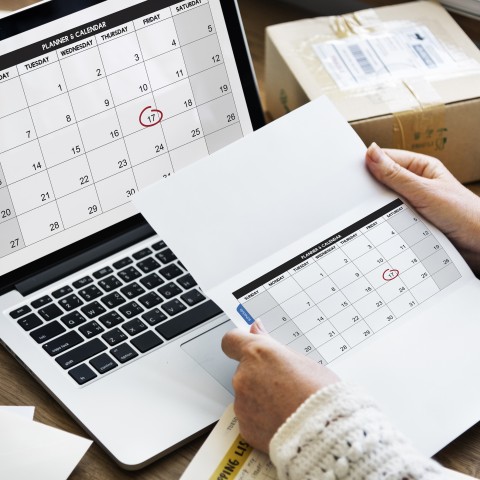 Dia 17 é uma quinta-feira. ("The 17th is a Thursday.")
3. How to Say the Months
Now, it's time to get acquainted with the 12 months of the year. Notice that, just like the days of the week, months do not begin with a capital letter in Portuguese. 
| | |
| --- | --- |
| Meses | Months |
| janeiro | January |
| fevereiro | February |
| março | March |
| abril | April |
| maio | May |
| junho | June |
| julho | July |
| agosto | August |
| setembro | September |
| outubro | October |
| novembro | November |
| dezembro | December |
Some other good-to-know Portuguese words related to months are:
Trimestre ("Quarter")
Semestre ("Semester") 
Estação, estações ("Season", "seasons")
And here are some examples of Portuguese sentences using the months:
Meu aniversário é em dezembro.
"My birthday is in December."
Ele viajou em janeiro.
"He traveled in January."
A minha estação do ano favorita começa em março.
"My favorite season starts in March."
Nós nos formamos em julho de 2025.
"We graduated in July 2025."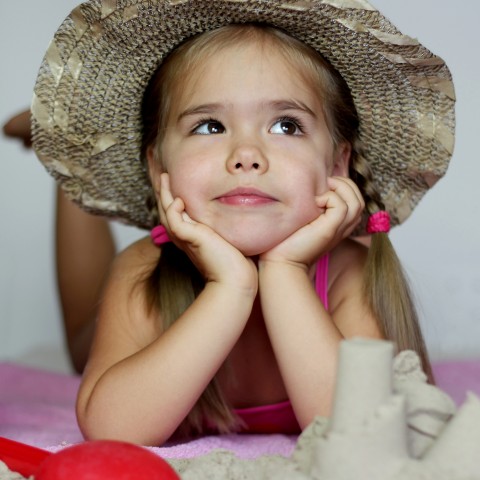 O verão começa no dia 21 de dezembro. ("Summer starts on December 21st.")
4. How to Say the Years
We are back to numbers! When talking about years, there is a large variety of possible numbers, so we can't cover each one individually. Luckily, the same format applies to most numbers – and consequently, to years. 
We will cover some examples of how to pronounce some different years. If you need more information, you can always check our in-depth article on Numbers in Portuguese.
| | |
| --- | --- |
| Year | Portuguese Pronunciation |
| 753 | Setecentos e cinquenta e três |
| 1500 | Mil e quinhentos |
| 1712 | Mil setecentos e doze |
| 1989 | Mil novecentos e oitenta e nove |
| 2021 | Dois mil e vinte e um |
As you can see by the examples above, the years are pronounced as any other cardinal number. Unlike in English, in Portuguese, we do not combine smaller numbers. For example:
1912 can be pronounced as "nineteen twelve" in English. In Portuguese, that does not happen.
However, years in the 20th century can be shortened, as in the examples below:
Nos anos 80… ("In the 80s…")
Ele lançou seu primeiro álbum em 95. ("He released his first album in 95.")
And since we just mentioned centuries, here is another difference between Portuguese and English. In English, we use ordinal numbers followed by the word "century". In Portuguese, we start with the word século ("century") followed by the number. The number can be ordinal or cardinal, depending on the following rules.
For numbers smaller than, and including, 10: the century is read as an ordinal number.
For numbers above 10: the century is read as a cardinal number.
Traditionally, Roman numerals are used to talk about centuries. However, it is becoming increasingly more common to use our good old Arabic numbers. Let's look at some examples.
Os acontecimentos do século 10º (pronounced as décimo).
Os acontecimentos do século X (pronounced as décimo).
"The events of the 10th century."
No começo do século 21 (pronounced as vinte e um).
No começo do século XVIII (pronounced as vinte e um).
"At the beginning of the 21st century."
O Brasil foi colonizado no século 16 (pronounced as dezesseis).
O Brasil foi colonizado no século XVI (pronounced as dezesseis).
"Brazil was colonized in the 16th century."
Finally, here are some extra sample sentences using years in Portuguese. 
2020 foi um ano bissexto. 
"2020 was a leap year."
Meu filho nasceu em 1999. 
"My son was born in 1999."
Meus filmes preferidos são da década de 1980. 
"My favorite movies are from the decade of 1980."
Se eu pudesse viajar no tempo, iria para os anos 30. 
"If I could travel back in time, I would go back to the 30s."
Nos casamos em 2010. Já faz quase 15 anos! 
"We got married in 2010. It's been almost 15 years!"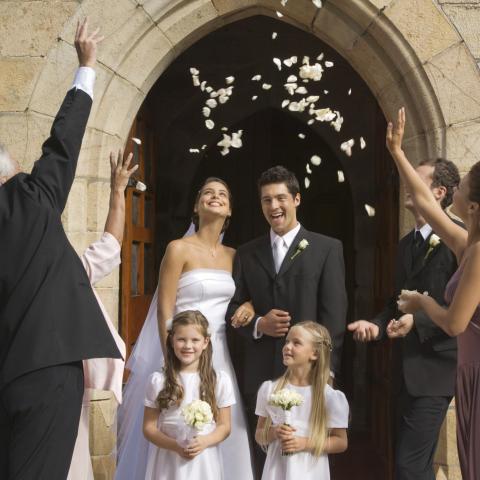 Nos casamos em Abril de 2010, cinco anos atrás. ("We got married in April 2010, five years ago.")
5. Fix the Date of Appointments in Portuguese
Now that you know how to talk about dates, it's time to put it to use. There are many practical applications to dates in everyday life, like booking appointments and making plans. 
Here are some important Portuguese words and phrases to do so:
Consulta ("Appointment")
Agendamento ("Scheduling", "appointment")
Reserva ("Booking")
Encontro ("Date", romantic)
Reunião ("Meeting")
Disponibilidade ("Availability")
Marcar ("To book", "to schedule")
Agendar ("To schedule")
Gostaria de marcar uma consulta com o doutor na próxima semana.
"I would like to make an appointment with the doctor next week."
Vocês têm disponibilidade para o próximo mês?
"Do you have availability for the next month?"
Qual é a data mais próxima para um agendamento?
"What is the closest date for an appointment?"
Gostaria de agendar uma mesa para sexta-feira. 
"I would like to schedule a table for Friday."
É possível reservar um quarto para duas pessoas para o fim de semana que vem? 
"Is it possible to book a room for two people for next weekend?"
Tenho um encontro amanhã.
"I have a date tomorrow."
Já podemos marcar a próxima reunião para Dezembro. 
"We can already schedule the next meeting for December."
A simple phone conversation to schedule an appointment with your doctor could go like this: 
Alô, boa tarde. Eu gostaria de marcar uma consulta com a doutora Ana. ("Hello, good afternoon. I would like to make an appointment with Dr. Ana. (feminine)")
Claro. Para que dia? ("Of course. For what day?")
Ela tem disponibilidade para a próxima semana? ("Does she have availability for next week?")
Não, a primeira data disponível é o dia 10 do mês que vem. ("No, the first available date is the 10th of next month.")
Dia 10 é uma quarta-feira? ("Is the 10th a Wednesday?")
Exatamente. Ela tem disponibilidade de manhã e de tarde. ("Exactly. She has availability in the morning and in the afternoon.")
Ok, então podemos marcar para o dia 10, às 11 horas. ("Okay, so we can schedule it for the 10th, at 11 o'clock.")
Perfeito. Está marcado. ("Perfect. It is scheduled.")
Obrigado! ("Thank you! (masculine)")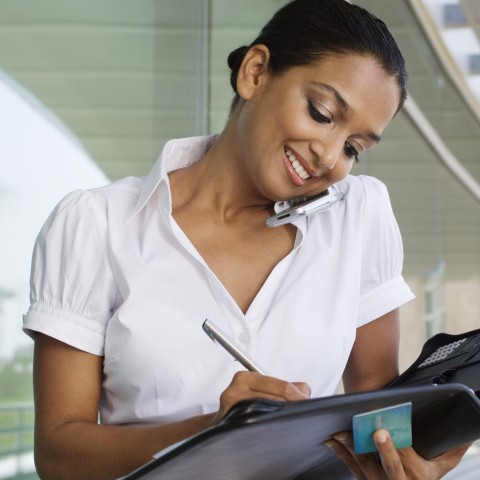 Schedule your appointments like a pro!
6. Must-Know Phrases to Talk about Dates
1 – Talking about Past and Upcoming Dates
We have already seen several ways to say "the next" in the previous examples in this article. But to make it easier for you, here are all the ways to talk about the upcoming dates. 
Amanhã ("Tomorrow")
Depois de amanhã ("Day after tomorrow")
Na próxima semana, no próximo mês, no próximo ano ("Next week, next month, next year")
Na semana seguinte, no sábado seguinte ("The following week, the following Saturday")
What about past dates? Here are the most important words and expressions to use:
Ontem ("Yesterday")
Anteontem ("Day before yesterday")
Na semana passada, no mês passado, no ano passado ("Last week, last month, last year")
Dias atrás, meses atrás, anos atrás ("Days ago, months ago, years ago")
2 – Important Everyday Phrases
In daily interactions, you will probably ask and answer questions related to dates in Portuguese. You will see that it isn't too hard at all – especially once you learn these basic Portuguese phrases.
Que dia é hoje? ("What day is today?")
Hoje é o dia 25. ("Today is the 25th.")
Que dia da semana é hoje? ("What day of the week is today?")
Hoje é quinta-feira. ("Today is Thursday.")
Quando as suas aulas começam? ("When do your classes start?")
Elas já começaram na semana passada. ("They already started last week.")
Quando você estará de férias? ("When will you be on vacation?")
No mês que vem, daqui a duas semanas. ("Next month, in two weeks.")
Quando é o seu aniversário? ("When is your birthday?")
Meu aniversário é em maio. ("My birthday is in May.")
Qual é a sua data de nascimento? ("What is your date of birth?") – formal situations
Dia 30 de outubro de 1990. ("October 30th, 1990.")
Que dia podemos nos encontrar? ("What day can we meet?")
Pode ser depois de amanhã. ("It can be the day after tomorrow.")
3 – Important Dates in Brazil
Now you know all the most important vocabulary, phrases and expressions to talk about Portuguese dates! But before you go, learn the name of some of the most relevant holidays in Brazil.
Carnaval ("Carnival")
Date changes every year
Páscoa ("Easter")
Date changes every year
Dia das Mães ("Mother's Day")
Segundo domingo de maio ("Second Sunday of May")
Férias de Julho ("July vacations")
Dia dos Pais ("Father's Day")
Segundo domingo de agosto ("Second Sunday of August")
Férias de final de ano ("End-of-year vacations")
Natal ("Christmas")
25 de dezembro ("December 25th")
Virada de ano, Réveillon ("New Year's Eve")
31 de dezembro ("December 31st")
Ano-Novo ("New Year")
Dia 1º de janeiro ("January 1st")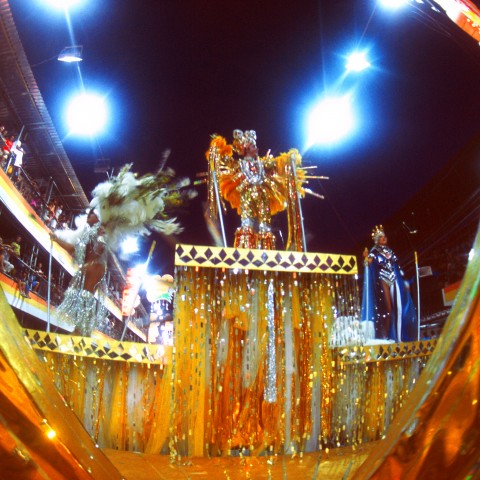 Desfile de Carnaval. ("The Carnival parade.")
7. Continue Learning Portuguese With PortuguesePod101
In this complete guide on Portuguese dates, we covered how to talk about days, days of the week, months and years. You can now ask and answer common questions on the topic, make plans and book appointments. Hopefully, you also learned how to write the date in Portuguese, so you can deal with date-related bureaucracy. 
Do you feel ready to have conversations about Portuguese dates and times? Do you think the article covered everything you needed to know about the topic? Please let us know in the comments!
Now, continue learning Portuguese with the hundreds of free Portuguese resources and the many vocabulary lists available on PortuguesePod101.com. Go ahead and choose your favorite tools to expand your learning opportunities.
If you want to take your Portuguese language learning experience further, members of PortuguesePod101.com get access to the largest language lesson library in the world, with thousands of real lessons by real teachers. Perfect for anyone who wants to learn from anywhere, feel motivated, and be ready to speak Portuguese with confidence. And in the meantime, continue exploring PortuguesePod101!
November 21, 2019
Travel: Is there any other activity that demands so much planning, money, and time…or that generates so many interesting and fulfilling discoveries?
Yes, traveling can be both a pleasure and a challenge. Leisure in newfound places walks hand in hand with language and cultural barriers. Learning Portuguese basics for travel can be helpful, but it might not be enough to help you generate a truly rich and comfortable experience.
There are many sources online with common Portuguese travel phrases, but many of them fail to illustrate the nuances of the daily vernacular you'll actually be hearing on your trip. It's not uncommon to learn some Portuguese travel phrases but neglect to brush up on local manners and signs of politeness. After all, there are many unspoken rules and other subtleties to be mindful of…
In this article, we'll present to you a list of Portuguese travel phrases that go beyond the basics. This includes some less common phrases as well as cultural information that will allow you to speak in a more flexible and comprehensive manner during your travels in Brazil!
Table of Contents
1. Basic Portuguese for Travel
To travel in Portuguese-speaking countries, one must be well-equipped with some fundamental words and expressions.
A- Greetings
Because first impressions are very important, let's start with some concise greetings. 
Oi! – "Hi!"
Olá! – "Hello!"
Bom dia. – "Good morning."
Boa tarde. – "Good afternoon."
Boa noite. – "Good evening."
B- Informal greetings
Friends often greet each other in a very casual manner. 
These phrases sound caring, but they're not always met with answers or reciprocity. In fact, their informal meaning is closer to "hi," or even just to signal that you see the other person. Generally, you'll use these phrases to greet people with whom you've had plenty of interactions already.
Tudo bem? – "How are you doing?"
Beleza? – "Howdy?"
E aí? – "What's up?"
Salve! – "Ay!"
C- Short answers
Essential communication is at the core of basic Portuguese phrases for travel. Therefore, these short answers will come in handy in a variety of situations.
Sim – "Yes"
Não – "No"
Talvez – "Maybe"
Pode ser? – "Why not?"
Eu gostei. / Eu não gostei. – "I liked it." / "I didn't like it." 
Bom – "Good"
Ruim – "Bad"
Bem – "Well" 
Mal – "Badly"
D- Being polite
Learning some basic etiquette rules can make a big difference in how you're received when approaching people during your travels. Being polite to a friend, a host, or a stranger shows them that you care to interact properly according to local customs—and this might make them more open to helping you.
Obrigado. (male) / Obrigada. (female) – "Thank you."
Me desculpe. – "I'm sorry." 

Often, people simply say desculpa, which is informal.  

Peço perdão. – "I beg your pardon."

This is a less common and more formal expression.

Com licença. – "Excuse me."
Por favor. – "Please."
Prazer em conhecê-lo. (male) / Prazer em conhecê-la. (female) – "Pleased to meet you."
Finally, here's a bonus phrase you'll definitely need when traveling in a Portuguese-speaking country:
Você pode tirar uma foto minha, por favor? – "Would you please take a picture of me?"
2. Portuguese Travel Phrases for Transportation
Whether you depend on taxis, subways, trains, or buses for transportation, you can count on the following phrases:
A- Taxi, please!
Vamos para a [Avenida Presidente Vargas], por favor. – "We are heading to [Presidente Vargas Avenue] please."
Você aceita cartão de crédito? – "Do you accept credit card?"
Você pode esperar um minuto, por favor? – "Could you hold on for a minute, please?"
Vamos fazer uma parada em outro lugar antes. – "We're making a stop-by in another place first."
Aqui está bom. – "Here is fine."
Taxis are often an expensive form of transportation in Brazil, though the recent diffusion of ride apps has pushed fare prices down in the last couple of years.  
B- Traveling by bus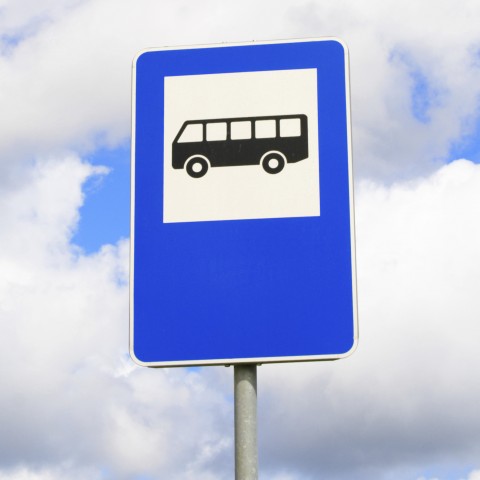 A mere bus can take you to so many places…
Pode me avisar quando estiver perto do [Parque do Ibirapuera]? – "Would you let me know when we get close to [Ibirapuera Park]?"
Em que ponto eu desço para chegar no [Elevador Lacerda]? – "Where should I get off to get to [Lacerda Elevator]?"
Quero visitar o [MASP]. Quanto tempo demora até lá? – "I'd like to visit [MASP]. How long does it take until we reach it?"
Você tem troco para vinte reais? – "May I have change for twenty reais?"
Este ônibus vai até a estação de metrô/estação de trem? – "Does this bus get to the subway/train station?"
Até que horas este ônibus funciona? – "When does this bus stop?"
The bus is the most common form of public transportation in Brazilian cities and between municipalities. Commercial flights are not an affordable option for long-distance travel for most of the country's population.
Some cities offer air-conditioned buses, and some places also have vans and microbuses for public transportation, which are called micro-ônibus or peruas.
C- Riding the train
Onde eu posso comprar o bilhete? – "Where can I buy a ticket?"
Eu vou querer dois bilhetes, por favor. – "Two tickets, please."
A que horas passa o ultimo trem? – "When does the last train arrive?"
De que lado fica a saída para a rua [Domingos de Moraes]? – "How can I get from here to [Domingos de Moraes] street?"
Onde fica o mapa das linhas do metrô? – "Where is the map of the subway lines?"
Esta é a linha verde do metrô? – "Is this the green subway line?"
Esta é a plataforma correta para ir até [o Flamengo]? – "Is this the right platform to [Flamengo]?"
Trains in Brazil are reserved for urban and freight transportation only. The railways were a popular long-distance transport decades ago, before cars became popular in the country.
3. Portuguese Travel Phrases for Shopping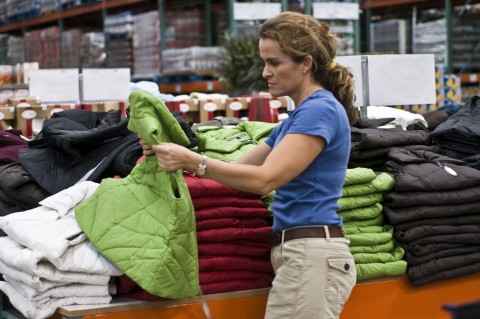 So many options to choose from, so many phrases to learn… Don't panic, let's be practical.
Our social interactions while shopping tend to be brief and no-nonsense, so an elaborate vocabulary isn't necessary to get what you need. For example: If you spot a nice fruit, you can point at it, ask for the price using gestures, and finish the purchase. Or, if shopping online, you could use a digital translator.
On the other hand, it might not always turn out this way. Buying a gift for a friend in a foreign country, for instance, could be confusing. It's not always easy to explain your interests or to formulate questions to a native speaker.  
Here are just a few survival phrases in Portuguese for making the most of your trip to the store or mall: 
Quanto custa isto? – "How much does it cost?"
Qual peça você recomenda? – "What piece/item do you recommend?"
Qual é a lembrança mais popular da loja? – "What is this store's most popular souvenir?"
Vocês aceitam pagamento por PayPal? – "Can I use PayPal for payment?"
O preço está em reais ou em dólares? – "Is the pricing in reais or in dollars?"
Você tem esta camiseta em tamanho médio? – "Does this T-shirt come in medium size?"
Será que este item chega até terça-feira? – "Might this item be in stock by Tuesday?"
4. Portuguese Travel Phrases for Restaurants
The most common activity we can all relate to? Eating. Whether you're ordering food or asking your waiter/waitress a question, this basic Portuguese travel phrases list for restaurants has got you covered. 
Uma mesa para quatro, por favor. – "Table for four, please."
Posso ver o menu, por favor? – "May I see the menu, please?"
Água, por favor. – "Water, please."
Uma cerveja, por favor. – "Beer, please."
Um copo de suco de laranja, por favor. – "A glass of orange juice, please."
Vocês têm opções vegetarianas/veganas? – "Do you have vegetarian/vegan options?"
A sobremesa está inclusa? – "Does it include the dessert?"
Sou alérgico a glúten. (male) / Sou alérgica a glúten. (female) – "I am allergic to gluten."
Garçom! – "Waiter!"
Garçonete! – "Waitress!"
Pode dividir a conta em dois? – "Would you split the bill?"
Está delicioso! – "It's delicious!"
Como se chama este prato? – "What do you call this dish?"
Não acredito que isso é peixe… – "I can't believe it's fish…"
5. Asking for and Giving Directions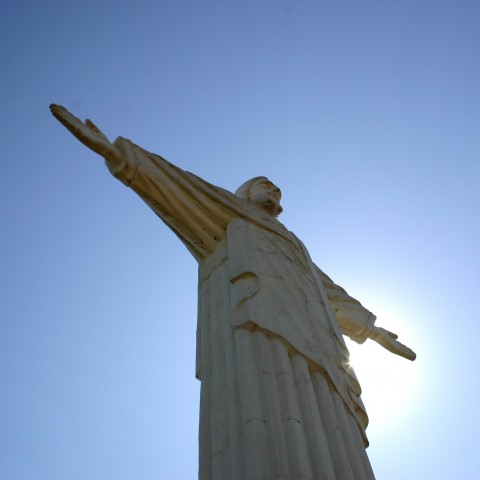 How can I get to Christ, the Redeemer?
Some of the most important Portuguese phrases for travelers are those used to ask for and give directions. Finding yourself lost with no means of communication never makes for a nice vacation or business trip! 
Onde fica o banheiro? – "Where is the toilet?"
A estação [Santa Cruz] fica aqui perto? – "Is [Santa Cruz] station nearby?"
Onde fica a estação de metrô mais próxima? – "Where is the nearest metro station?"
Pode me dizer para que lado é o Jardim Botânico? – "Could you tell me which way to Jardim Botânico?"
Como eu faço para chegar ao [Cristo Redentor]? – "How can I get to [Christ, the Redeemer]?"
Vire à direita. – "Turn right."
Vire à esquerda. – "Turn left."
Siga em frente. – "Go ahead."
Siga reto. – "Go straight."
Atravesse a rua. – "Cross the street."
Para o outro lado – "To the other side"
6. Emergencies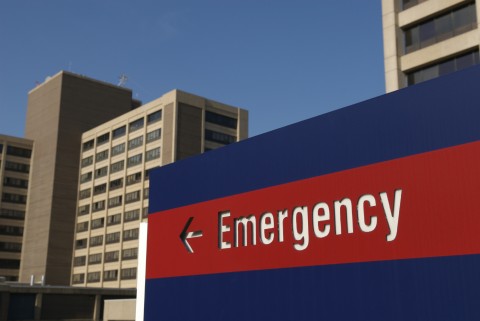 To get help, one must learn to ask for it.
Travels are full of discoveries and opportunities for adventure. Of course, there's always room for unexpected events…some of which might not be pleasant. Here are some crucial Portuguese basics for travel to help you out in an emergency: 
Ajuda, por favor! – "Help, please!"
Você pode me ajudar? – "Can you help me?"
Chame uma ambulância. – "Call an ambulance."
Chame a polícia. – "Call the police."
Chame os bombeiros. – "Call the firemen."
Tem algum médico aqui? – "Is there a doctor around here?"
Perdi meu passaporte. – "I lost my passport."
Roubaram minha carteira. – "Someone stole my wallet."
The most useful emergency numbers for travelers in Brazil are:
Police: Call 190 to report emergencies, and 197 to make inquiries and give information to the police.
Medical ambulance: Medical emergencies can be reported through calls to 192.
Fire service: Call 193.
Don't forget to read our vocabulary list for useful phone call phrases, so you can act correctly on the spot if needed. Also, check the emergency phone numbers in Portugal and Angola.
7. Flattery Phrases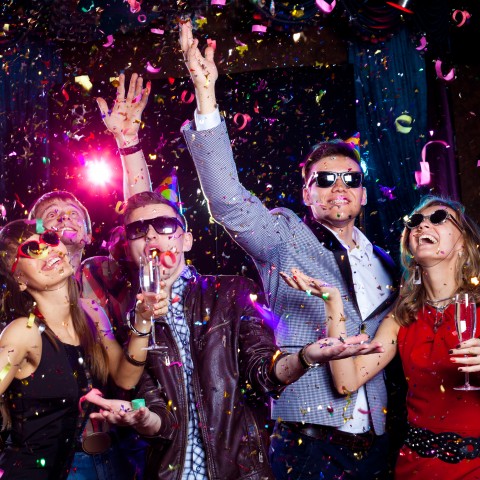 Embrace the confetti and throw some of it too: it makes people happier.
Flattery often pays off for tourists and foreigners. Pick people from any culture you want: they'll most likely react in a positive way to flattery, especially if it's genuine. To use a Brazilian expression for this universal vanity: Everyone likes to get some confetti thrown at them.
So, basic Portuguese travel phrases for flattery might open doors and build bridges between people! You can use them at the gym, during a meeting with friends, on a date, or in other contexts. Just use them at your discretion.
As pessoas no Brasil são muito gentis. – "People in Brazil are very kind."
Eu adoro os brasileiros. – "I love Brazilians."
Eu gosto muito da comida portuguesa. – "I like Portuguese food very much."
Eu amo Angola. – "I love Angola."
Eu amo o seu país. – "I love your country."
Quero ser seu amigo. (male) / amiga. (female) Você tem Instagram? – "I want to be your friend. Do you use Instagram?"
Eu quero morar aqui. – "I want to live here."
Você é lindo! (male) / Você é linda! (female) – "You are pretty!"
8. Useful Phrases to Go Through Language Problems
One common error that learners of a foreign language make is "overthinking" instead of talking intuitively, because they want to speak everything perfectly. This pretension might be an obstacle to developing oral fluency.
Sometimes, just learning the phrases isn't enough and we need to ask native speakers for help. But why not at least do it correctly and in the foreign language? This self-improving and humble attitude is very constructive toward a speedier learning process.
Você fala inglês? – "Can you speak English?"
Não estou te entendendo. – "I don't understand you."
Pode repetir? – "Can you repeat?"
Fale mais devagar, por favor. – "Please speak slowly."
Você pode escrever, por favor? – "Would you write it down, please?"
Como se lê isto? – "How do you read this?"
Você pode soletrar para mim? – "Could you spell it out for me?"
Eu não falo português muito bem. – "I don't speak Portuguese very well."
Eu não falo nada de português. – "I don't speak Portuguese at all."
9. Conclusion
In this article, you learned a lot of basic Portuguese travel phrases that will keep you busy for some time and hopefully provide you with good cultural insight. The best part is that you have access to these expressions for free—all it takes is a few clicks or taps on your computer or cellphone. 
It's a good idea to write down these expressions and practice them often. Indeed, reading and understanding content is nice, but active learning is the best way to build complex knowledge.
Are there any travel phrases you would still like to know or a situation we didn't cover? Let us know in the comments, and we'll get back to you! 
PortuguesePod101 provides many resources that are guaranteed to put you on a thrilling and productive learning path. Apart from vocabulary lists that are easy to consult and focused on practical situations, PortuguesePod101 provides a variety of multimedia lessons and content for Portuguese learners at every level. By subscribing to a Premium PLUS account, you also gain access to private lessons to boost your conversation skills and help you absorb important cultural information.
Check out PortuguesePod101's resources for free and take your Portuguese studies to the next level!
December 26, 2017
Learn all the Portuguese New Year wishes online, in your own time, on any device! Join PortuguesePod101 for a special Portuguese New Year celebration!
Can you relate to the year passing something like this: "January, February, March – December!"? Many people do! Quantum physics teaches us that time is relative, and few experiences illustrate this principle as perfectly as when we reach the end of a year. To most of us, it feels like the old one has passed in the blink of an eye, while the new year lies ahead like a very long journey! However, New Year is also a time to celebrate beginnings, and to say goodbye to what has passed. This is true in every culture, no matter when New Year is celebrated.
So, how do you say Happy New Year in Portuguese? Let a native teach you! At PortuguesePod101, you will learn how to correctly greet your friends over New Year, and wish them well with these Portuguese New Year wishes!
Table of Contents
But let's start with some vocabulary for Portuguese New Year celebrations, very handy for conversations.
1. How to Celebrate New Year in Brazil
If you're in Brazil on New Year's Eve or Véspera de Ano Novo, you'll be able to see the fireworks on the turn of the year on Copacabana beach. Apart from setting off fireworks, we have many other traditions for the New Year in Brazil. Everything from the meals to the color of the clothes you wear is extremely important on this day.
Now before we get into more detail, do you know the answer to this question?
What other name is also given for New Year's Eve in Portuguese?
If you don't already know, you'll find out a bit later, so keep reading!
There's one very important detail for the passing of the year. It's choosing the color of the clothes you will wear in Brazil. Each color has a special meaning, and it shows what you want for next year. "Color" in Portuguese is cor.
The most popular color for New Year's Day is "white" or branco, which means "peace" or in Portuguese, paz. Another widely used color also is gold or yellow. Brazilian people think yellow or amarelo will bring wealth and money to them. If you're in Brazil on New Year's Eve, look around and enjoy the colorful clothes people wear that have a special meaning and hope for special wishes.
Besides the color of clothing, there are superstitions about food as well. The food includes figs or figos, pomegranates or romãs, the lentils or lentilha, and grapes or uva. They are all symbols of prosperity. For example, some people eat seven pomegranate seeds at midnight and save their seeds or sementes in their wallet. It's believed that this custom will bring them wealth and money. Traditionally, Brazilian people also eat twelve grapes or uvas at the turn of the year to bring good luck for the year ahead.
The new year occurs during the summer or verão in Brazil. It's a great time to go to the beach with family or friends. Many devotees of the religion of Candomblé make offerings to the goddess of the seas, whose name is Yemanja. The most common types of offerings are flowers or flores, candles or velas, and perfumes or in Portuguese, perfumes.
There's another habit that shows African influence—jumping seven waves. It's believed that if you jump over seven waves or sete ondas, it will attract luck and success for years to come.
And here's the fun fact.
December 31st is also the day of International Race of St. Sylvester or Corrida Internacional de São Silvestre in the city of São Paulo. It's a race held on one of Brazil's most famous streets, with a route that is fifteen kilometers long, and participants have the warmth of the Brazilian summer to face.
Now it's time to answer our quiz question-
What other name is also given for New Year's Eve?
New Year's Eve in Brazil is also known as the réveillon in Brazil. This word comes from the French word meaning "awakening."
Happy New Year!
Feliz Ano Novo!
2. Must-Know Portuguese Words & Phrases for the New Year!
1- Year
ano
This is pretty self-explanatory. Most countries follow a Gregorian calendar, which has approximately 365 days in a year, while in some cultures, other year designations are also honored. Therefore, New Year's day in Brazil could fall on a different day than in your country. When do you celebrate New Year?
2- Midnight
meia-noite
The point in time when a day ends and a new one starts. Many New Year celebrants prefer to stay awake till midnight, and greet the new annum as it breaks with fanfare and fireworks!
3- New Year's Day
Dia de Ano Novo
In most countries, the new year is celebrated for one whole day. On the Gregorian calendar, this falls on January 1st. On this day, different cultures engage in festive activities, like parties, parades, big meals with families and many more.
4- Party
festa
A party is most people's favorite way to end the old year, and charge festively into the new one! We celebrate all we accomplished in the old year, and joyfully anticipate what lies ahead.
5- Dancing
dança
Usually, when the clock strikes midnight and the New Year officially begins, people break out in dance! It is a jolly way to express a celebratory mood with good expectations for the year ahead. Also, perhaps, that the old year with its problems has finally passed! Dance parties are also a popular way to spend New Year's Eve in many places.
6- Champagne
champanhe
Originating in France, champagne is a bubbly, alcoholic drink that is often used to toast something or someone during celebrations.
7- Fireworks
fogo de artifício
These are explosives that cause spectacular effects when ignited. They are popular for announcing the start of the new year with loud noises and colorful displays! In some countries, fireworks are set off to scare away evil spirits. In others, the use of fireworks is forbidden in urban areas due to their harmful effect on pets. Most animals' hearing is much more sensitive than humans', so this noisy display can be very frightful and traumatising to them.
8- Countdown
contagem regressiva
This countdown refers to New Year celebrants counting the seconds, usually backward, till midnight, when New Year starts – a great group activity that doesn't scare animals, and involves a lot of joyful shouting when the clock strikes midnight!
9- New Year's Holiday
Feriado de Ano Novo
In many countries, New Year's Day is a public holiday – to recuperate from the party the previous night, perhaps! Families also like to meet on this day to enjoy a meal and spend time together.
10- Confetti
confete
In most Western countries, confetti is traditionally associated with weddings, but often it is used as a party decoration. Some prefer to throw it in the air at the strike of midnight on New Year's Eve.
11- New Year's Eve
Véspera de Ano Novo
This is the evening before New Year breaks at midnight! Often, friends and family meet for a party or meal the evening before, sometimes engaging in year-end rituals. How are you planning to give your New Year greetings in 2018?
12- Toast
brinde
A toast is a type of group-salutation that involves raising your glass to drink with others in honor of something or someone. A toast to the new year is definitely in order!
13- Resolution
promessa
Those goals or intentions you hope to, but seldom keep in the new year! Many people consider the start of a new year to be the opportune time for making changes or plans. Resolutions are those intentions to change, or the plans. It's best to keep your resolutions realistic so as not to disappoint yourself!
14- Parade
desfile
New Year celebrations are a huge deal in some countries! Parades are held in the streets, often to celebratory music, with colorful costumes and lots of dancing. Parades are like marches, only less formal and way more fun. At PortuguesePod101, you can engage in forums with natives who can tell you what Portuguese New Year celebrations are like!
3. Top 10 New Year's Resolutions
So, you learned the Portuguese word for 'resolution'. Fabulous! Resolutions are those goals and intentions that we hope to manifest in the year that lies ahead. The beginning of a new year serves as a good marker in time to formalise these. Some like to do it in writing, others only hold these resolutions in their hearts. Here are our Top 10 New Year's resolutions at PortuguesePod101 – what are yours?
Learn these phrases and impress your Portuguese friends with your vocabulary.
1- Read more
Ler mais.
Reading is a fantastic skill that everyone can benefit from. You're a business person? Apparently, successful business men and women read up to 60 books a year. This probably excludes fiction, so better scan your library or Amazon for the top business reads if you plan to follow in the footsteps of the successful! Otherwise, why not make it your resolution to read more Portuguese in the new year? You will be surprised by how much this will improve your Portuguese language skills!
2- Spend more time with family
Passar mais tempo com a família.
Former US President George Bush's wife, Barbara Bush, was quoted as having said this: "At the end of your life, you will never regret not having passed one more test, not winning one more verdict, or not closing one more deal. You will regret time not spent with a husband, a friend, a child, a parent." This is very true! Relationships are often what gives life meaning, so this is a worthy resolution for any year.
3- Lose weight
Emagrecer.
Hands up, how many of you made this new year's resolution last year too…?! This is a notoriously difficult goal to keep, as it takes a lot of self discipline not to eat unhealthily. Good luck with this one, and avoid unhealthy fad diets!
4- Save money
Economizar.
Another common and difficult resolution! However, no one has ever been sorry when they saved towards reaching a goal. Make it your resolution to save money to upgrade your subscription to PortuguesePod101's Premium PLUS option in the new year – it will be money well spent!
5- Quit smoking
Parar de fumar.
This is a resolution that you should definitely keep, or your body could punish you severely later! Smoking is a harmful habit with many hazardous effects on your health. Do everything in your power to make this resolution come true in the new year, as your health is your most precious asset.
6- Learn something new
Aprender algo novo.
Science has proven that learning new skills can help keep brain diseases such as dementia and Alzheimer's at bay! It can even slow down the progression of the disease. So, keep your brain healthy by learning to speak a new language, studying towards a qualification, learning how to sew, or how to play chess – no matter how old you are, the possibilities are infinite!
7- Drink less
Beber menos.
This is another health resolution that is good to heed any time of the year. Excessive drinking is associated with many diseases, and its effect can be very detrimental to good relationships too. Alcohol is a poison and harmful for the body in large quantities!
8- Exercise regularly
Me exercitar regularmente.
This resolution goes hand-in-hand with 'Lose weight'! An inactive body is an unhealthy and often overweight one, so give this resolution priority in the new year.
9- Eat healthy
Ter uma alimentação saudável.
If you stick with this resolution, you will lose weight and feel better in general. It is a very worthy goal to have!
10- Study Portuguese with PortuguesePod101
estudando português com PortuguesePod101.com
Of course! You can only benefit from learning Portuguese, especially with us! Learning how to speak Portuguese can keep your brain healthy, it can widen your circle of friends, and improve your chances to land a dream job anywhere in the world. PortuguesePod101 makes it easy and enjoyable for you to stick to this resolution.
4. Inspirational New Year Quotes
Everyone knows that it is sometimes very hard to stick to resolutions, and not only over New Year. The reasons for this vary from person to person, but all of us need inspiration every now and then! A good way to remain motivated is to keep inspirational quotes near as reminders that it's up to us to reach our goals.
Click here for quotes that will also work well in a card for a special Portuguese new year greeting!
Make decorative notes of these in Portuguese, and keep them close! Perhaps you could stick them above your bathroom mirror, or on your study's wall. This way you not only get to read Portuguese incidentally, but also remain inspired to reach your goals! Imagine feeling like giving up on a goal, but reading this quote when you go to the bathroom: "It does not matter how slowly you go, as long as you do not stop." What a positive affirmation!
5. Inspirational Language Learning Quotes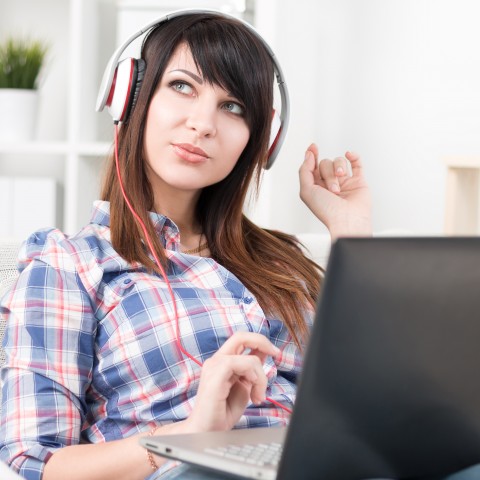 Still undecided whether you should enroll with PortuguesePod101 to learn a new language? There's no time like the present to decide! Let the following Language Learning Quotes inspire you with their wisdom.
Click here to read the most inspirational Language Learning Quotes!
As legendary President Nelson Mandela once said: "If you talk to a man in a language he understands, that goes to his head. If you talk to him in his own language, that goes to his heart." So, learning how to say Happy New Year in Portuguese could well be a way into someone special's heart for you! Let this year be the one where you to learn how to say Happy New Year, and much more, in Portuguese – it could open many and unexpected doors for you.
6. How To Say Happy New Year in 31 Languages
Here's a lovely bonus for you! Why stop with Portuguese – learn how to say Happy New Year in 31 other languages too! Watch this video and learn how to pronounce these New Year's wishes like a native in under two minutes.
7. Why Enrolling with PortuguesePod101 Would Be the Perfect New Year's Gift to Yourself!
If you are unsure how to celebrate the New Year, why not give yourself a huge gift, and enroll to learn Portuguese! With more than 12 years of experience behind us, we know that PortuguesePod101 would be the perfect fit for you. There are so many reasons for this!
There's no reason not to go big in 2018 by learning Portuguese with PortuguesePod101. Just imagine how the world can open up for you!
November 27, 2017
In most cultures, it is custom to express gratitude in some way or another. The dictionary defines gratitude as follows: it is "the quality of being thankful; readiness to show appreciation for and to return kindness". Giving a sincere, thankful response to someone's actions or words is often the 'glue' that keeps relationships together. This is true in most societies! Doing so in a foreign country also shows your respect and appreciation for the culture. Words have great power – use these ones sincerely and often!
Table of Contents
So, how do you say 'Thank you' in Portuguese? You can learn easily! Below, PortuguesePod101 brings you perfect translations and pronunciation as you learn the most common ways Portuguese speakers say 'Thanks' in various situations.
1. 12 Ways to say 'Thank you' in Portuguese
1- Thank you.
Obrigado.
The magical words that can bring a smile to any face. For one day, truly mean it whenever you say these words, and see how this lifts your spirit too!
2- That's very kind of you.
É muita gentileza da sua parte.
This phrase is appropriate when someone clearly goes out of their way to give good service, or to offer you a kindness.
3- Thanks for your kind words!
Obrigada pelas suas ​​palavras gentis!
Someone paid you a compliment and made you feel good? That is kind of him/her, so express your gratitude!
4- Thank you for coming today.
Obrigada por ter vindo hoje.
This welcoming phrase should be part of your arsenal if you're conducting more formal meetings with Portuguese speakers. If you're hosting a party, this is also a good phrase when you greet your Portuguese guests!
5- Thank you for your consideration.
Obrigada pela consideração.
This is a more formal, almost solemn way to thank someone for their thoughtfulness and sensitivity towards you. It is also suitable to use when a native speaker has to consider something you submit, like a job application, a project or a proposal. You are thanking them, in essence, for time and effort they are about to, or have spent on your submission.
6- Thanks a lot!
Muito obrigada!
This means the same as 'Thank you', but with energy and enthusiasm added! It means almost the same as 'thank you so much' in Portuguese. Use this in an informal setting with your Portuguese friends or teachers.
7- Teachers like you are not easy to find.
Não é fácil de encontrar professores como você.
Some phrases are compliments, which express gratitude by inference. This is one of them. If you're particularly impressed with your PortuguesePod101 teacher, this is an excellent phrase to memorize!
8- Thank you for spending time with us.
Obrigada por passar tempo com a gente.
Any host at a gathering with Portuguese speakers, such as a meeting or a party, should have this under his/her belt! Use it when you're saying goodbye or busy closing a meeting. It could also be another lovely way to thank your Portuguese language teacher for her time.
9- Thank you for being patient and helping me improve.
Obrigada por ser paciente e me ajudar a melhorar.
This phrase is another sure way to melt any formal or informal Portuguese teacher's heart! Teaching is not easy, and often a lot of patience is required from the teacher. Thank him/her for it! It's also a good phrase to use if you work in Brazil, and want to thank your trainer or employer. You will go a long way towards making yourself a popular employee – gratitude is the most attractive trait in any person!
10- You're the best teacher ever!
Você é o melhor professor de todos os tempos!
This is also an enthusiastic way to thank your teacher by means of a compliment. It could just make their day!
11- Thank you for the gift.
Obrigada pelo presente
This is a good phrase to remember when you're the lucky recipient of a gift. Show your respect and gratitude with these words.
12- I have learned so much thanks to you.
Eu aprendi muito graças a você.
What a wonderful compliment to give a good teacher! It means they have succeeded in their goal, and you're thankful for it.
2. Video Lesson: Learn to Say 'Thank You' in 3 Minutes
Wherever you travel, manners are a must! And every culture has its own definition of politeness. In this respect, Brazil is no different. As you can imagine, knowing this tidbit of language can go a long way.
1- Obrigado
The phrase we'll learn today is obrigado. In Portuguese, obrigado means "Thank you." The word obrigado literally means "obligated," or more specifically, "to be obligated toward someone."
Now, in Portuguese, there are several ways to express one's gratitude. There are more formal and more casual ways to do this. Let's take a look at a formal way.
2- Muito Obrigado
A more formal way of expressing gratitude is muito obrigado, which means "Thank you very much." The first word, muito, can mean several things in English: "much," "many," "very," etc, but in this case, it means "very." This is followed by obrigado, which in Portuguese you'll remember is "thank you." So, muito and obrigado mean "Thank you very much."
Cultural Insights
Quick Tip: Are You Refusing the Things You Desire?
When I first arrived in Brazil, a friend and I went to a Senhora Noêmia's house. I had only been in Brazil for a few weeks but had already fallen in love with acerola juice. (It is a very healthy kind of "sour cherry". ) Brazilians always offer food to their guests, and this house was no exception. It being a hot day, Mrs. Noêmia went to the kitchen and brought out a nice, cold glass of suco de acerola. She offered it to me, and I dutifully said Obrigado. She promptly turned away and put the juice back in the fridge. Let me explain why exactly she did that.
In Brazil, when someone offers you something and you say Obrigado, it is a polite way of refusing what is offered. It's kind of like "Thank you for the offer, but I don't want whatever you're giving me." I explained myself to Noêmia (because my friend was laughing too hard) who also chuckled and gave me back the juice. As I said before, a little bit of language goes a long way, especially on a very hot day!
On the run to Brazil? Wait! You can't go without some basic language phrases under your belt! Especially if you're heading to meet your prospective employer! Either in person or online, knowing how to say 'Thank you' in the Portuguese language will only improve their impression of you! PortuguesePod101 saves you time with this short lesson that nevertheless packs a punch. Learn to say 'Thank you' in Portuguese in no time!
3. Audio Lesson: Survival Phrases – Thank You
Perhaps you think it's unimportant that you don't know what 'Thank you' is in Portuguese, or that it's too difficult a language to learn. Yet, as a traveler or visitor, you will be surprised at how far you can go using a little bit of Portuguese in Brazil!
Click Here to Listen to the Free Audio Lesson!
At PortuguesePod101, we offer you a few ways of saying 'Thank you' in Portuguese that you have no excuse not knowing, as they're so simple and easy to learn. The lesson is geared to aid your 'survival' in formal and informal situations in Brazil, so don't wait! You will never have to google 'How do you say thanks in Portuguese' again…!
4. 'Thank You' in 31 Languages
For the global traveler in a hurry, here are 31 ways to say 'Thank you'! These are the first words you need to learn in any foreign language – it is sure to smooth your way with native speakers by showing your gratitude for services rendered, and your respect for their culture! Learn and know how to correctly say 'Thank you' in 31 different languages in this short video.
5. Why would PortuguesePod101 be the perfect choice to learn Portuguese?
However, you need not stop at 'Thank you' in Portuguese – why not learn to speak the language?! You have absolutely nothing to lose. Research has shown that learning a new language increases intelligence and combats brain-aging. Also, the ability to communicate with native speakers in their own language is an instant way to make friends and win respect! Or imagine you know how to write 'Thank you' to that special Portuguese friend after a date…he/she will be so impressed!
PortuguesePod101 Has Special Lessons, Tools and Resources to Teach You How to Say Thank You and Other Key Phrases
With more than a decade of experience behind us, we have taught thousands of satisfied users to speak foreign languages. How do we do this? First, we take the pain out of learning! At PortuguesePod101, students are assisted as they master vocabulary, pronunciation, and conversation through state-of-the-art and fun online learning methods. A library replete with learning resources allows for you to learn at your own pace and in your own space! Resources include thousands of video and audio recordings, downloadable PDF lessons and plenty of learning apps for your mobile devices. Each month, we add benefits with FREE bonuses and gifts to improve your experience.
We accommodate all levels and types of learners, from Absolute Beginner to Advanced, and PortuguesePod101 is free for anyone to sign up. However, you can choose to fast track your fluency with lesson customization and increased interactive learning and practicing. Upgrade to Premium, or Premium PLUS to enhance your experience and greatly expedite your learning. With this type of assistance, and pleasurable effort on your part, you will speak Portuguese in a very short period of time!
Click Here to Visit PortuguesePod101!
Best of all is that you're never alone! We believe that practice is the holy grail of learning any new language, and we gear our courses to ensure lots of it. Enroll with us, and you gain immediate access to our lively forum where we meet and greet, and discuss your burning questions. Our certified teachers are friendly and helpful, and you are very likely to practice your first 'Thanks!' in Portuguese on him/her, AND mean it! Hurry up, and sign up now – you will thank us for it.