Travel: Is there any other activity that demands so much planning, money, and time…or that generates so many interesting and fulfilling discoveries?
Yes, traveling can be both a pleasure and a challenge. Leisure in newfound places walks hand in hand with language and cultural barriers. Learning Portuguese basics for travel can be helpful, but it might not be enough to help you generate a truly rich and comfortable experience.
There are many sources online with common Portuguese travel phrases, but many of them fail to illustrate the nuances of the daily vernacular you'll actually be hearing on your trip. It's not uncommon to learn some Portuguese travel phrases but neglect to brush up on local manners and signs of politeness. After all, there are many unspoken rules and other subtleties to be mindful of…
In this article, we'll present to you a list of Portuguese travel phrases that go beyond the basics. This includes some less common phrases as well as cultural information that will allow you to speak in a more flexible and comprehensive manner during your travels in Brazil!
Table of Contents
1. Basic Portuguese for Travel
To travel in Portuguese-speaking countries, one must be well-equipped with some fundamental words and expressions.
A- Greetings
Because first impressions are very important, let's start with some concise greetings. 
Oi! – "Hi!"
Olá! – "Hello!"
Bom dia. – "Good morning."
Boa tarde. – "Good afternoon."
Boa noite. – "Good evening."
B- Informal greetings
Friends often greet each other in a very casual manner. 
These phrases sound caring, but they're not always met with answers or reciprocity. In fact, their informal meaning is closer to "hi," or even just to signal that you see the other person. Generally, you'll use these phrases to greet people with whom you've had plenty of interactions already.
Tudo bem? – "How are you doing?"
Beleza? – "Howdy?"
E aí? – "What's up?"
Salve! – "Ay!"
C- Short answers
Essential communication is at the core of basic Portuguese phrases for travel. Therefore, these short answers will come in handy in a variety of situations.
Sim – "Yes"
Não – "No"
Talvez – "Maybe"
Pode ser? – "Why not?"
Eu gostei. / Eu não gostei. – "I liked it." / "I didn't like it." 
Bom – "Good"
Ruim – "Bad"
Bem – "Well" 
Mal – "Badly"
D- Being polite
Learning some basic etiquette rules can make a big difference in how you're received when approaching people during your travels. Being polite to a friend, a host, or a stranger shows them that you care to interact properly according to local customs—and this might make them more open to helping you.
Obrigado. (male) / Obrigada. (female) – "Thank you."
Me desculpe. – "I'm sorry." 

Often, people simply say desculpa, which is informal.  

Peço perdão. – "I beg your pardon."

This is a less common and more formal expression.

Com licença. – "Excuse me."
Por favor. – "Please."
Prazer em conhecê-lo. (male) / Prazer em conhecê-la. (female) – "Pleased to meet you."
Finally, here's a bonus phrase you'll definitely need when traveling in a Portuguese-speaking country:
Você pode tirar uma foto minha, por favor? – "Would you please take a picture of me?"
2. Portuguese Travel Phrases for Transportation
Whether you depend on taxis, subways, trains, or buses for transportation, you can count on the following phrases:
A- Taxi, please!
Vamos para a [Avenida Presidente Vargas], por favor. – "We are heading to [Presidente Vargas Avenue] please."
Você aceita cartão de crédito? – "Do you accept credit card?"
Você pode esperar um minuto, por favor? – "Could you hold on for a minute, please?"
Vamos fazer uma parada em outro lugar antes. – "We're making a stop-by in another place first."
Aqui está bom. – "Here is fine."
Taxis are often an expensive form of transportation in Brazil, though the recent diffusion of ride apps has pushed fare prices down in the last couple of years.  
B- Traveling by bus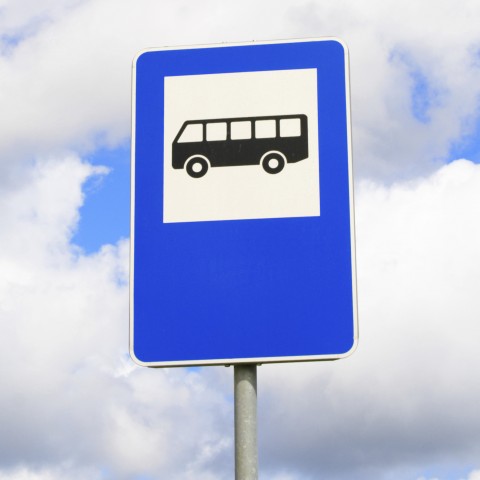 A mere bus can take you to so many places…
Pode me avisar quando estiver perto do [Parque do Ibirapuera]? – "Would you let me know when we get close to [Ibirapuera Park]?"
Em que ponto eu desço para chegar no [Elevador Lacerda]? – "Where should I get off to get to [Lacerda Elevator]?"
Quero visitar o [MASP]. Quanto tempo demora até lá? – "I'd like to visit [MASP]. How long does it take until we reach it?"
Você tem troco para vinte reais? – "May I have change for twenty reais?"
Este ônibus vai até a estação de metrô/estação de trem? – "Does this bus get to the subway/train station?"
Até que horas este ônibus funciona? – "When does this bus stop?"
The bus is the most common form of public transportation in Brazilian cities and between municipalities. Commercial flights are not an affordable option for long-distance travel for most of the country's population.
Some cities offer air-conditioned buses, and some places also have vans and microbuses for public transportation, which are called micro-ônibus or peruas.
C- Riding the train
Onde eu posso comprar o bilhete? – "Where can I buy a ticket?"
Eu vou querer dois bilhetes, por favor. – "Two tickets, please."
A que horas passa o ultimo trem? – "When does the last train arrive?"
De que lado fica a saída para a rua [Domingos de Moraes]? – "How can I get from here to [Domingos de Moraes] street?"
Onde fica o mapa das linhas do metrô? – "Where is the map of the subway lines?"
Esta é a linha verde do metrô? – "Is this the green subway line?"
Esta é a plataforma correta para ir até [o Flamengo]? – "Is this the right platform to [Flamengo]?"
Trains in Brazil are reserved for urban and freight transportation only. The railways were a popular long-distance transport decades ago, before cars became popular in the country.
3. Portuguese Travel Phrases for Shopping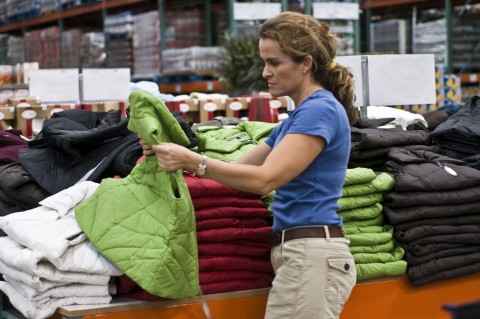 So many options to choose from, so many phrases to learn… Don't panic, let's be practical.
Our social interactions while shopping tend to be brief and no-nonsense, so an elaborate vocabulary isn't necessary to get what you need. For example: If you spot a nice fruit, you can point at it, ask for the price using gestures, and finish the purchase. Or, if shopping online, you could use a digital translator.
On the other hand, it might not always turn out this way. Buying a gift for a friend in a foreign country, for instance, could be confusing. It's not always easy to explain your interests or to formulate questions to a native speaker.  
Here are just a few survival phrases in Portuguese for making the most of your trip to the store or mall: 
Quanto custa isto? – "How much does it cost?"
Qual peça você recomenda? – "What piece/item do you recommend?"
Qual é a lembrança mais popular da loja? – "What is this store's most popular souvenir?"
Vocês aceitam pagamento por PayPal? – "Can I use PayPal for payment?"
O preço está em reais ou em dólares? – "Is the pricing in reais or in dollars?"
Você tem esta camiseta em tamanho médio? – "Does this T-shirt come in medium size?"
Será que este item chega até terça-feira? – "Might this item be in stock by Tuesday?"
4. Portuguese Travel Phrases for Restaurants
The most common activity we can all relate to? Eating. Whether you're ordering food or asking your waiter/waitress a question, this basic Portuguese travel phrases list for restaurants has got you covered. 
Uma mesa para quatro, por favor. – "Table for four, please."
Posso ver o menu, por favor? – "May I see the menu, please?"
Água, por favor. – "Water, please."
Uma cerveja, por favor. – "Beer, please."
Um copo de suco de laranja, por favor. – "A glass of orange juice, please."
Vocês têm opções vegetarianas/veganas? – "Do you have vegetarian/vegan options?"
A sobremesa está inclusa? – "Does it include the dessert?"
Sou alérgico a glúten. (male) / Sou alérgica a glúten. (female) – "I am allergic to gluten."
Garçom! – "Waiter!"
Garçonete! – "Waitress!"
Pode dividir a conta em dois? – "Would you split the bill?"
Está delicioso! – "It's delicious!"
Como se chama este prato? – "What do you call this dish?"
Não acredito que isso é peixe… – "I can't believe it's fish…"
5. Asking for and Giving Directions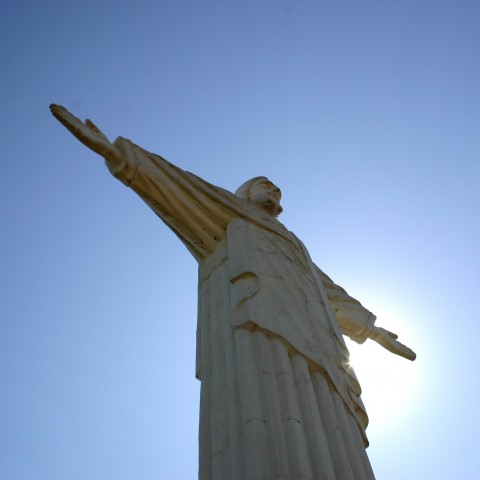 How can I get to Christ, the Redeemer?
Some of the most important Portuguese phrases for travelers are those used to ask for and give directions. Finding yourself lost with no means of communication never makes for a nice vacation or business trip! 
Onde fica o banheiro? – "Where is the toilet?"
A estação [Santa Cruz] fica aqui perto? – "Is [Santa Cruz] station nearby?"
Onde fica a estação de metrô mais próxima? – "Where is the nearest metro station?"
Pode me dizer para que lado é o Jardim Botânico? – "Could you tell me which way to Jardim Botânico?"
Como eu faço para chegar ao [Cristo Redentor]? – "How can I get to [Christ, the Redeemer]?"
Vire à direita. – "Turn right."
Vire à esquerda. – "Turn left."
Siga em frente. – "Go ahead."
Siga reto. – "Go straight."
Atravesse a rua. – "Cross the street."
Para o outro lado – "To the other side"
6. Emergencies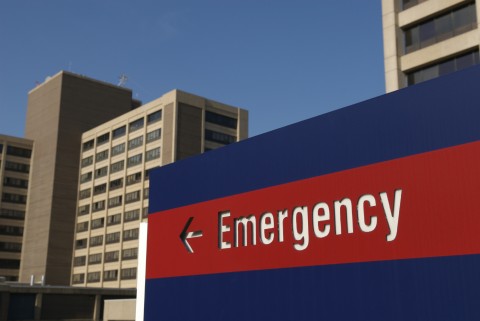 To get help, one must learn to ask for it.
Travels are full of discoveries and opportunities for adventure. Of course, there's always room for unexpected events…some of which might not be pleasant. Here are some crucial Portuguese basics for travel to help you out in an emergency: 
Ajuda, por favor! – "Help, please!"
Você pode me ajudar? – "Can you help me?"
Chame uma ambulância. – "Call an ambulance."
Chame a polícia. – "Call the police."
Chame os bombeiros. – "Call the firemen."
Tem algum médico aqui? – "Is there a doctor around here?"
Perdi meu passaporte. – "I lost my passport."
Roubaram minha carteira. – "Someone stole my wallet."
The most useful emergency numbers for travelers in Brazil are:
Police: Call 190 to report emergencies, and 197 to make inquiries and give information to the police.
Medical ambulance: Medical emergencies can be reported through calls to 192.
Fire service: Call 193.
Don't forget to read our vocabulary list for useful phone call phrases, so you can act correctly on the spot if needed. Also, check the emergency phone numbers in Portugal and Angola.
7. Flattery Phrases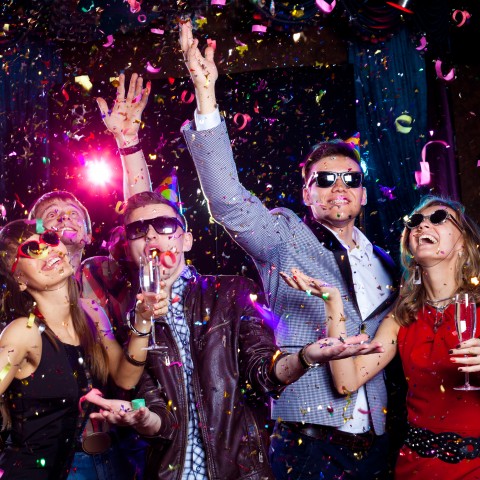 Embrace the confetti and throw some of it too: it makes people happier.
Flattery often pays off for tourists and foreigners. Pick people from any culture you want: they'll most likely react in a positive way to flattery, especially if it's genuine. To use a Brazilian expression for this universal vanity: Everyone likes to get some confetti thrown at them.
So, basic Portuguese travel phrases for flattery might open doors and build bridges between people! You can use them at the gym, during a meeting with friends, on a date, or in other contexts. Just use them at your discretion.
As pessoas no Brasil são muito gentis. – "People in Brazil are very kind."
Eu adoro os brasileiros. – "I love Brazilians."
Eu gosto muito da comida portuguesa. – "I like Portuguese food very much."
Eu amo Angola. – "I love Angola."
Eu amo o seu país. – "I love your country."
Quero ser seu amigo. (male) / amiga. (female) Você tem Instagram? – "I want to be your friend. Do you use Instagram?"
Eu quero morar aqui. – "I want to live here."
Você é lindo! (male) / Você é linda! (female) – "You are pretty!"
8. Useful Phrases to Go Through Language Problems
One common error that learners of a foreign language make is "overthinking" instead of talking intuitively, because they want to speak everything perfectly. This pretension might be an obstacle to developing oral fluency.
Sometimes, just learning the phrases isn't enough and we need to ask native speakers for help. But why not at least do it correctly and in the foreign language? This self-improving and humble attitude is very constructive toward a speedier learning process.
Você fala inglês? – "Can you speak English?"
Não estou te entendendo. – "I don't understand you."
Pode repetir? – "Can you repeat?"
Fale mais devagar, por favor. – "Please speak slowly."
Você pode escrever, por favor? – "Would you write it down, please?"
Como se lê isto? – "How do you read this?"
Você pode soletrar para mim? – "Could you spell it out for me?"
Eu não falo português muito bem. – "I don't speak Portuguese very well."
Eu não falo nada de português. – "I don't speak Portuguese at all."
9. Conclusion
In this article, you learned a lot of basic Portuguese travel phrases that will keep you busy for some time and hopefully provide you with good cultural insight. The best part is that you have access to these expressions for free—all it takes is a few clicks or taps on your computer or cellphone. 
It's a good idea to write down these expressions and practice them often. Indeed, reading and understanding content is nice, but active learning is the best way to build complex knowledge.
Are there any travel phrases you would still like to know or a situation we didn't cover? Let us know in the comments, and we'll get back to you! 
PortuguesePod101 provides many resources that are guaranteed to put you on a thrilling and productive learning path. Apart from vocabulary lists that are easy to consult and focused on practical situations, PortuguesePod101 provides a variety of multimedia lessons and content for Portuguese learners at every level. By subscribing to a Premium PLUS account, you also gain access to private lessons to boost your conversation skills and help you absorb important cultural information.
Check out PortuguesePod101's resources for free and take your Portuguese studies to the next level!