Whether it's a Christmas celebration, a birthday party, or a simple barbecue (churrasco!), there's a family gathering just about every month in Brazil. Yes, those events where small cousins are running around, grandmother asks about your love life, and there's more food than people can handle.
Learning how to talk about family in Portuguese is essential, even if you don't attend one of these family gatherings in Brazil (which we recommend you do!). After all, this is a topic that always comes up in conversations. People will ask you about your family, or tell you stories about their own family involving multiple relatives.
In this article, we'll go over the vocabulary you need to know to talk about all kinds of families, as well as family-related words in Portuguese. We'll also see some examples of sentences and questions related to family in Portuguese. But first, let's go over family values in Portuguese-speaking Brazil and more information on family structures. Ready?
Table of Contents
1. An Introduction to Brazilian Families
Brazilians tend to have very tight-knit relationships with their families. Family definitely continues to be a strong institution in Brazil, and that's why it's always one of the first topics in a conversation. Overall, Brazilians are collectivistic, and it's not uncommon to see several generations living in the same household or very close by.
Of course, we can't forget that the local culture also lends a lot of importance to celebrations where the whole family comes together to enjoy each other's company, great food, and music.
Although the family size in Brazil has diminished over the past several years, it's still common to see numerous families with plenty of children, cousins, uncles, and aunts. This is especially true in smaller cities and rural areas; families in cosmopolitan regions tend to have fewer children.
Unlike in some other cultures, there aren't different ways to refer to family members in Portuguese based on their age. What does happen a lot in Brazil is the use of a diminutive suffix at the end of words to indicate affection. You'll see some examples further along. In addition to that, there are other endearment terms and nicknames that Brazilians use to refer to family members with extra fondness.
Another thing to keep in mind is that Portuguese is a language that tends to use the masculine form when dealing with plurals. This characteristic relates directly to Brazilian society, which is largely patriarchal. We'll discuss the plurals a bit later in this article as well!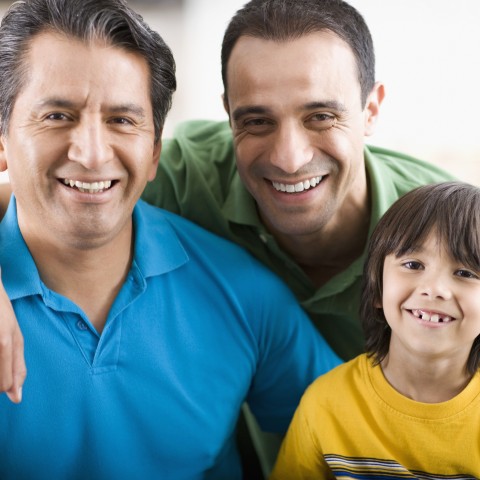 Three generations: avô ("grandfather"), pai ("father"), and filho ("son").
2. The Basics of the Nuclear Family
Let's start with the basic vocabulary for talking about your immediate family in Portuguese. It might look like a lot of new words, but we'll put it all in context with some example sentences!
We'll start by answering the most important question: How do you say "family" in Portuguese?
| | |
| --- | --- |
| Família | "Family" |
| Parentes | "Relatives" |
| Mãe | "Mother" |
| Pai | "Father" |
| Pais | "Parents" |
| Irmã | "Sister" |
| Irmão | "Brother" |
| Irmãos | "Siblings" |
| Filho | "Son" |
| Filha | "Daughter" |
| Filhos | "Children" |
As you can see in the vocabulary table above, when we're talking about the plural for parents, children, or siblings, we use the masculine form:
Pai ("father" ) → Pais ("parents" )
Irmão ("brother" ) → Irmãos ("brothers" or "siblings" )
Filho ("son" )→ Filhos ("sons" or "children" )
However, if you already know that the siblings or children are all female, then you can use the feminine plural irmãs ("sisters"). If you don't know, or if there are both male and female siblings, then use the masculine form irmãos ("brothers"). In fact, this plural rule applies to all plurals in Portuguese, so keep that in mind going forward!
Now that you already know the family terms in Portuguese for talking about siblings or children, how can you add more details? Take a look at the words and expressions below.
| | |
| --- | --- |
| Mais novo / nova | "Younger" |
| O mais novo/a mais nova, caçula | "The youngest" |
| Mais velho / velha | "Eldest" |
| O mais velho / a mais velha | "The eldest" |
| Do meio | "Middle" (child or sibling) |
| Filho único / filha única | "Single child" (male) / (female) |
| Gêmeos / gêmeas | "Twins" |
Great, you've just learned a bunch of new vocabulary! You might be wondering how these new words look in a real-life sentence. We've got you covered:
Meu filho mais novo ("My youngest son" )
Ele é o caçula. ("He is the youngest." )
Eu sou a irmã do meio. ("I am the middle daughter." )
Ela é a filha mais velha. ("She is the oldest daughter." )
Tenho dois irmãos mais velhos. ("I have two older siblings/brothers." )
Eu vivo com meus pais. ("I live with my parents." )
Ele não tem filhos. ("He doesn't have children." )
Os almoços de família são sempre cheios de parentes. ("The family lunches are always full of relatives." )
When talking to a Portuguese speaker, the conversation about family could go a bit like this:
A: Como está a sua família? ("How's your family?" )
B: Estão todos bem. E sua mãe? ("Everyone is doing well. How about your mother?l" )
A: Ela está melhor, obrigado. Você tem irmãos, não é? ("She is better, thank you. You have siblings, right?" )
B: Tenho sim! Um irmão mais novo e uma irmã mais velha. ("I do! A younger brother and an older sister." )
A: Legal! Eu sou filho único. Meus pais nunca quiseram mais filhos. ("Cool! I am an only child. My parents never wanted more children." )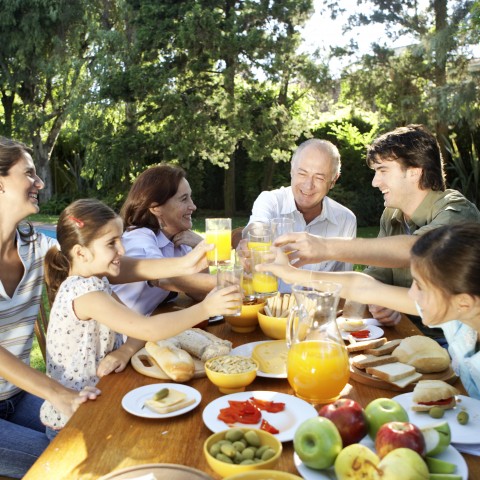 3. The Relatives You See at Christmas
As we explained before, Brazilians tend to be very close to their relatives, and family gatherings or reunions are a big affair.
| | |
| --- | --- |
| Avó | "Grandmother" |
| Avô | "Grandfather" |
| Avós | "Grandparents" |
| Bisavó | "Great-grandmother" |
| Bisavô | "Great-grandfather" |
| Bisavós | "Great-grandparents" |
| Neto | "Grandson" |
| Neta | "Granddaughter" |
| Netos/Netas | "Grandchildren" |
| Tio | "Uncle" |
| Tia | "Aunt" |
| Tios | "Uncles" or plural form of "uncles + aunts" |
| Tias | "Aunts" |
Note that the first plurals in the table above sound "feminine," even though the plural favors males as explained previously. This is only a matter of making the word sound more pleasant.
/!\ Tio ("uncle" ) and tia ("aunt" ) are also used to informally refer to friends' parents or other adults.
| | |
| --- | --- |
| Primo | "Cousin" (male) |
| Prima | "Cousin" (female) |
| Primos | "Cousins" |
| Sobrinho | "Nephew" |
| Sobrinha | "Niece" |
| Sobrinhos | "Nephews" or plural form of "nephews + nieces" |
| Sobrinhas | "Nieces" |
| Madrinha | "Godmother"v |
| Padrinho | "Godfather" |
| Padrinhos | "Godparents" |
| Afilhado | "Godson" |
| Afilhada | "Goddaughter" |
Check out some examples of dialogues including questions and answers using the new vocabulary.
A: Você tem padrinhos? ("Do you have godparents?" )
B: Sim! Minha madrinha é uma amiga da minha avó. Meu padrinho é meu tio, irmão mais velho do meu pai. ("Yes! My godmother is one of my grandmother's friends. My godfather is my uncle, my father's oldest brother." )
A: Legal! Quantos tios você tem, só um? ("Cool! How many uncles do you have, only one?" )
B: Por parte de pai, só um. Por parte de mãe, tenho um tio e dua tias. ("From my father's side, only one. From my mother's side, I have one uncle and two aunts." )
Another example dialogue:
A: Como foi a festa de aniversário do seu sobrinho? ("How was your nephew's birthday party?" )
B: Foi muito boa! Todos meus primos estavam lá, então deu pra ver todo mundo! ("It was very good! All of my cousins were there, so I could see everyone!" )
A: E seus avós, eles foram? ("How about your grandparents, did they go?" )
B: Minha avó, sim. Mas meu avô ficou em casa cuidando da minha bisavó. ("My grandmother did. But my grandfather stayed home taking care of my great-grandmother." )
A: Ah, entendi. ("Oh, I see." )
B: Mas minha avó ficou feliz de ver todos os netos e netas. ("But my grandmother was happy to see all of her grandchildren." )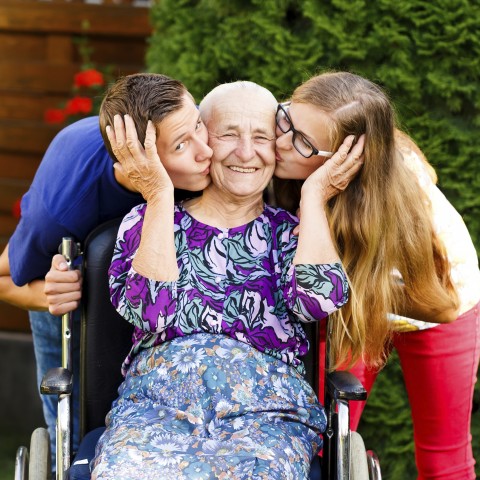 Avó e netos ("Grandmother and grandchildren" )
→ Listen to the pronunciation for the must-know family terms on PortuguesePod101!
4. The New Family: Couples
Beyond the immediate family ties, you also have to learn how to talk about the new family members a married person acquires!
With the new words you'll see below, you'll be able to talk about love and passionate relationships. This way, if you need to DTR (define the relationship) in Portuguese, you'll have nothing to fear!
Here's how to talk about newly acquired members of the family in Portuguese, and how to define certain relationships.
| | |
| --- | --- |
| Casal | "Couple" |
| Esposo / Marido | "Husband" |
| Esposa / Mulher | "Wife" |
| Casados | "Married" |
| Noivo | "Fiancé" / "Groom" |
| Noiva | "Fiancée" / "Bride" |
| Noivos | "Engaged couple" |
| Namorado | "Boyfriend" |
| Namorada | "Girlfriend" |
| Namorados | "Dating couple" |
| Parceiro | "Partner" (male) |
| Parceira | "Partner" (female) |
| Ex | "Ex" |
| Divorciado | "Divorced" (male) |
| Divorciada | "Divorced" (female) |
| Amante | "Lover" |
| Amantes | "Lovers" |
| Viúvo | "Widower" |
| Viúva | "Widow" |
Here's a dialogue example filled with real-life phrases you might hear in Portuguese:
A: Finalmente vou conhecer a sua namorada? ("Will I finally meet your girlfriend?" )
B: Namorada, não. Mas a minha noiva sim! ("Girlfriend, no. But my fiancée, yes!" )
A: Não acredito! ("I don't believe it!" )
B: Acredite! Tenho uma foto dela, olha. ("Believe it! I have a picture of her, look." )
A: Ah, muito mais bonita do que sua ex-esposa. Fazem um casal lindo! ("Oh, she is much prettier than your ex-wife. You make a beautiful couple!" )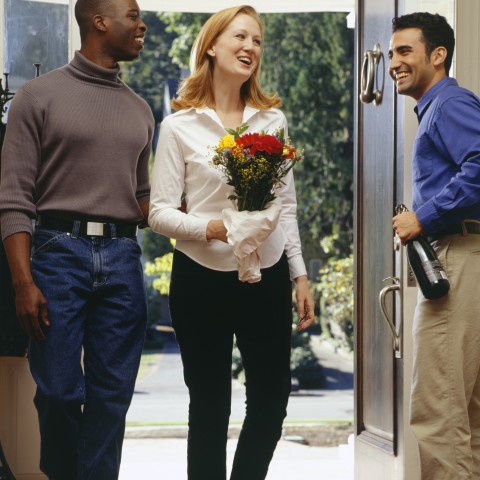 O casal chegou! ("The couple arrived!" )
→ If love is in the air, you might want to learn these love phrases with PortuguesePod101!
5. Extending the New Family: In-laws
Once the family expands, you'll have to get used to many more family members! Nothing to worry about, though. In real life, the in-laws tend to be less scary than in the movies.
In Portuguese, it's not as easy as simply adding "-in-law" to already familiar words. So take your time to practice and understand these different words for the extended family in Portuguese!
| | |
| --- | --- |
| Sogro | "Father-in-law" |
| Sogra | "Mother-in-law" |
| Sogros | "Parents-in-law" or plural for "father-in-law + mother-in-law" |
| | |
| --- | --- |
| Genro | "Son-in-law" |
| Nora | "Daughter-in-law" |
| Cunhado | "Brother-in-law" |
| Cunhada | "Sister-in-law" |
For example:
Manda um beijo para a sua sogra. ("Send a kiss to your mother-in-law." )
Quantos cunhados você tem? ("How many brothers-in-law do you have?" )
Meu genro é muito inteligente. ("My son-in-law is very smart." )
5. Blended Families
Like in many other countries, the family structure is changing rapidly in Brazil. The term "blended family" refers to cases where one or both of the spouses have children from other relationships. That means more family relations and more words to discover!
Here's a list of words you can use to describe these family ties in Portuguese:
| | |
| --- | --- |
| Padrasto | "Stepfather" |
| Madrasta | "Stepmother" |
| Enteado | "Stepson" |
| Enteada | "Stepdaughter" |
| Enteados | "Stepchildren" |
| Meia-irmã | "Half-sister" |
| Meio-irmão | "Half-brother" |
| Meio-irmãos | "Half-siblings" |
| Irmã do outro casamento | "Stepsister," literally translating to "sister from another marriage" |
| Irmão do outro casamento | "Stepbrother," literally translating to "brother from another marriage" |
| Irmãos do outro casamento | "Step-siblings" |
As you can see, the terms for step-siblings are a mouthful. As a result, they're not used very often, and it's common to just use the words irmão ("brother"), irmã ("sister"), or irmãos ("siblings" ) to refer to step-siblings.
Here are some examples:
Eu gosto da minha madrasta. ("I like my stepmother." )
Nossos meio-irmãos são mais novos. ("Our half-siblings are younger." )
A sua enteada tem quantos anos? ("How old is your stepdaughter?" )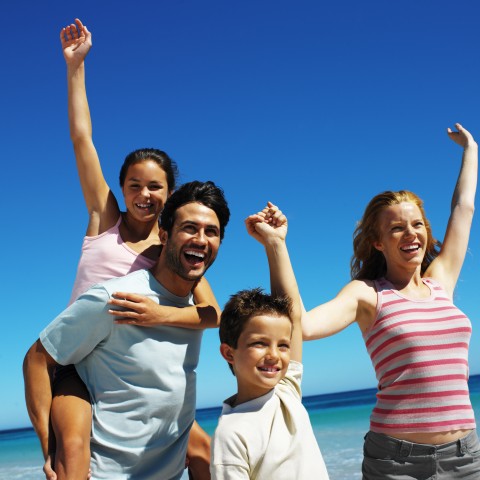 A família foi para a praia ("The family went to the beach" )
6. Showing Affection: Endearment Terms
As we said before, family relations are very important and central to Brazilian culture. Therefore, it's not surprising that there are plenty of endearment terms used to refer to some of the family members we covered in this article.
Why don't we play a game, then? Take a look at the words below and try to guess what family member each term refers to. After you're done, scroll down to get the answers!
Mamãe
Papai
Vovó
Vovô
Dinda
Dindo
Bisa
Biso
Titio
Titia
Hey, no cheating!
But if you're done, here's the translation for each word:
| | |
| --- | --- |
| Mamãe | "Mommy" |
| Papai | "Dad" |
| Vovó | "Grandma" |
| Vovô | "Grandpa" |
| Dinda | Endearment term for "godmother" |
| Dindo | Endearment term for "godfather" |
| Bisa | Endearment term for "great-grandmother" |
| Biso | Endearment term for "great-grandfather" |
| Titio | Endearment term for "uncle" |
| Titia | "Auntie," endearment term for "aunt" |
In addition to the terms listed above, it's very common to use the diminutive ending to convey affection. For the cases we're discussing in this article, the endings are:
-inho for masculine words
-inha for feminine words
And here are some examples of endearment terms with the diminutive ending.
Mãe ("mother" ) → Mãezinha
Pai ("father" ) → Paizinho
Avó ("grandmother" ) → Vózinha
Avô ("grandfather" ) → Vôzinho
Vovó ("grandma" ) → Vovózinha
Vovô ("grandpa" ) → Vovôzinho
Prima ("cousin" female ) → Priminha
Primo ("cousin" male ) → Priminho
Tia ("aunt" ) → Tiazinha
Tio ("uncle" ) → Tiozinho
Neta ("granddaughter" ) → Netinha
Neto ("grandson" ) → Netinho
In some places in the north and/or the northeast of Brazil, you can also hear the following endearment terms:
Mainha ("mom"; exclusive to the Northeast)
Painho ("dad"; exclusive to the Northeast)
Mana / Maninha ("sis" / "sister" )
Mano / Maninho ("bro" / "brother" )
Maninha ("little sister" )
Maninho ("little brother" )
/!\ While in the north and northeast of Brazil, mano and mana are used to refer to blood relations, those words can also be used as slang throughout Brazil. Context will be your best friend when you encounter those words!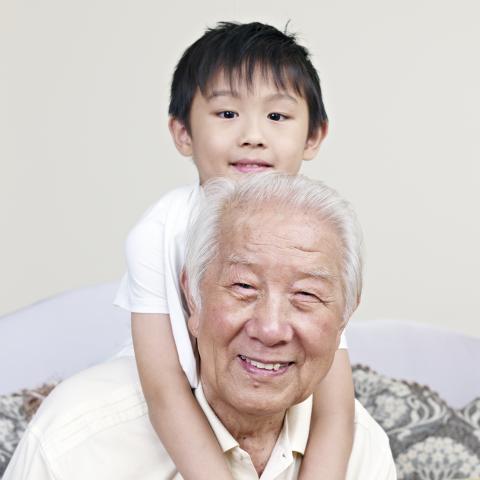 Avôzinho e netinho ("Grandfather and his little grandson" )
7. Learn More Portuguese with PortuguesePod101
We hope this complete guide to talking about family in Portuguese was helpful to you! Now you're ready to engage in conversation about family members and tell old family tales like a native Portuguese speaker. If you want to take it a step further, practice the pronunciation of the terms and words you learned today.
Were the examples we presented useful? Did we miss any important words you wanted to learn? Let us know in the comments! And remember that you can come back to this article whenever you need to and refresh your memory.
Now it's time to continue on your language-learning journey! There are more free Portuguese resources and a variety of vocabulary lists available on PortuguesePod101.com. Go ahead and choose your favorite tools to expand your learning opportunities.
If you want to take your learning experience further, members of PortuguesePod101.com get access to the largest language lesson library in the world, with thousands of real lessons by real teachers. Perfect for anyone who wants to learn from anywhere, feel motivated, and be ready to speak Portuguese with confidence. And in the meantime, continue exploring PortuguesePod101!
November 21, 2019
Traveling to foreign countries is nearly always an exciting, enriching, and beneficial experience. Yet, some things can be real downers, such as boredom on a lengthy flight to Brazil. Really, binge-watching onboard movies can only be interesting for so long! And jet lag – another huge downer. Did you know that jet lag is more severe when you travel from the West to the East?
Well, we won't know how to beat that, but there are fortunately plenty of remedies around to investigate.
To beat flight boredom, though, we may have the answer for you at PortuguesePod101! Why don't you take the time to study Portuguese travel phrases? We make this super easy and fun, with great downloadables, like our PDF Cheat Sheets. Quickly memorize these, and impress your Portuguese friends or travel guide with your flawless Portuguese!
Table of Contents
1. Importance Of Learning Travel Phrases
Impressing Portuguese people or your travel partners will be the least of the benefits you reap from learning these helpful phrases. These are greater ones:
1) Eliminate Travel Frustration: First of all, you'll be able to cut out a good chunk of travel frustration and inconvenience due to language barriers.
Know how to pronounce and use at least the basic Portuguese phrases, and then just look foreign. This should go a long way to help you get by and win you friends, because locals would be more inclined to help someone who took the trouble to learn a smidgen of their language.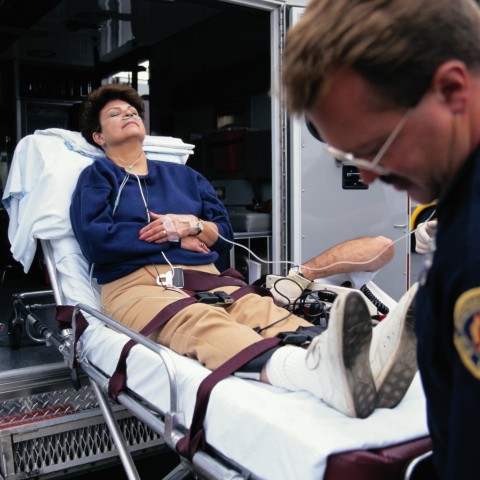 2) Emergency Readiness: In case of an emergency, you will be able to get help a lot quicker if you know how to ask for what in Portuguese. Imagine miming to a doctor or nurse that you have a sore ear but that you're allergic to penicillin. Not so easy, right?
Rather, you should know basic emergency travel phrases, especially if you suffer from a serious condition. Also, information about life-threatening allergies you have should always be on your person in the language of the country you're visiting.
3) Sight-Seeing Readiness: Hopefully, you also travel to learn more about a country's culture. Visiting the main tourist sites in Brazil will be more interesting if you know how to ask pertinent questions in Portuguese.
In this blog, we'll also be giving you important travel phrases to consider – from the 13 essential must-have phrases to ones that are just generally useful and good to know.
Let's get cracking!
2. 13 Must-Have Travel Phrases and Words
Seasoned explorers of multiple countries will tell you that certain words and phrases are absolute must-knows in anyone's travel vocabulary. Learning from them, we collated some of the most essential ones here for you.
If you know these travel phrases and words by heart in Portuguese, you will be much better equipped for your visit than most of your movie-binging travel mates.
1) Obrigado (Thank you)
As a tourist, you will be relying on the kindness of strangers to get by. Repay them with a small acknowledgment of their friendly generosity – know how to say "thank you" in Portuguese.
2) Você fala inglês? (Do you speak English?)
While it may be a bit of a cop-out, sometimes you just can't figure out how to communicate. Maybe you're blanking on one specific word you need, maybe they're speaking with a heavy accent, or maybe it's just really late and you really want to get to the hotel. In that case, try asking if they speak English, and hopefully you can make things a little bit simpler for yourself.
Don't abuse this phrase, though! If you just try to get by without learning any of the local language, not only will you not learn anything – you'll be out of luck if they can't speak English!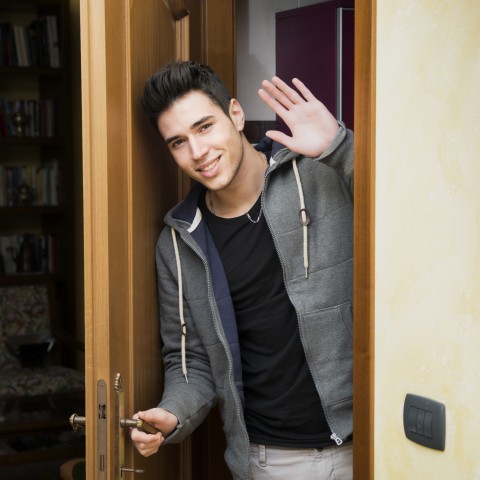 3) Tem algum ônibus que vai do aeroporto até a cidade? (Is there a bus from the airport to the city?)
Public transit is usually cheaper, if slower, than taking a taxi or rideshare. Use this phrase to see if you can get where you're going when you're strapped for cash, or just when you'd like to take the scenic route into town!
4) Esse é o ônibus que vai até o aeroporto? (Is this the right bus for the airport?)
Likewise, if you're the kind of person who can get themselves moving early (or maybe you just have a late flight), maybe you want to take the bus to the airport rather than taking a cab. If that's the case, you'll want to be sure you're actually heading the right way! You wouldn't want to end up at a lookout point half an hour away, watching your flight take off in the distance, would you?
5) Com licença, quanto é a passagem? (Excuse me, what's the fare?)
If you are paying for a cab, you'll want to know how much. Most legal taxis will have meters, but when dealing with a currency you're not familiar with, it can be worth asking just to double check that you're paying the right amount – especially if the currency has cents.
6) Eu tenho uma reserva (I have a reservation)
This one you can expect to use at least a few times throughout your trip, unless you're the kind of person who travels by the seat of their pants and just goes to whatever hotel, motel, or hostel has rooms available.
7) Você tem um quarto vago pra hoje? (Do you have any vacancies tonight?)
If that's the case, you'll definitely be using this phrase instead. Quite possibly a lot, depending on how lucky you are!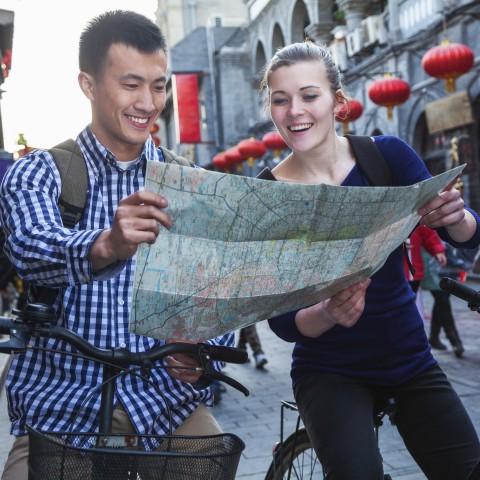 8 ) Onde fica a estação de trem? (Where is the train station?)
If you're in a country with an expansive commuter rail system (or maybe just a fan of other types of locomotives), you may want to know where the closest station is. Just don't go looking for pennies on the rails!
9) Eu sou alérgico a amendoins (I am allergic to peanuts)
Replace "peanuts" with whatever the word for your allergen may be. If your allergy is serious, you probably already know the importance of stating this very clearly in Portuguese.
If the condition is life-threatening, be sure to have a letter or prescription from a medical professional in Portuguese on your person at all times. Consider getting a medical alert bracelet specially made in Portuguese if your stay will be longer than a month or so.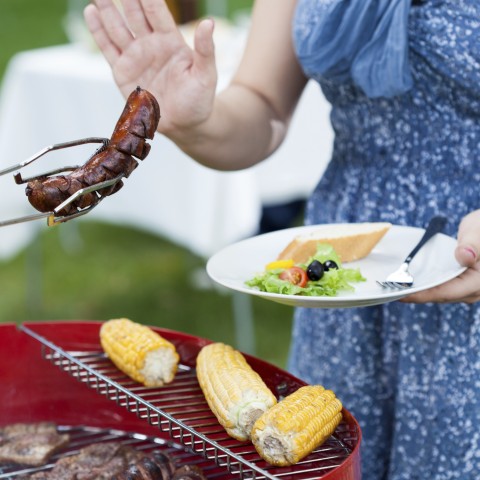 10) Você tem algum prato vegetariano? (Do you have any vegetarian dishes?)
If you dislike eating certain things, or you have certain dietary restrictions, it would be best if you knew how to convey this clearly in Portuguese.
Remember, though, that saying "I'm vegan" or "I'm diabetic" may not be enough to get you what you want. The rules for veganism and vegetarianism are not standard everywhere in the world. Also, your patron might not understand what "diabetic" means. If you have a medical condition, it would be best to research some in-depth vocabulary beforehand.
11) Você me vê um mapa? (Could I get a map?)
Planning on exploring your destination? Hopelessly lost? Maybe just an amateur cartographer? No matter the reason, this phrase is sure to come in handy. That said, you're more likely to get use out of it at some sort of tourist or travel center than you are asking a random passerby on the street.
12) Quanto custa este daqui? (How much is this?)
Even if you're not a big shopper, you're probably going to need this phrase at some point. Knowing how to count in Portuguese will, of course, help a lot with purchases too.
13) Você aceita cartão de crédito? (Do you take credit card?)
This is another travel phrase that will smooth your monetary transactions considerably.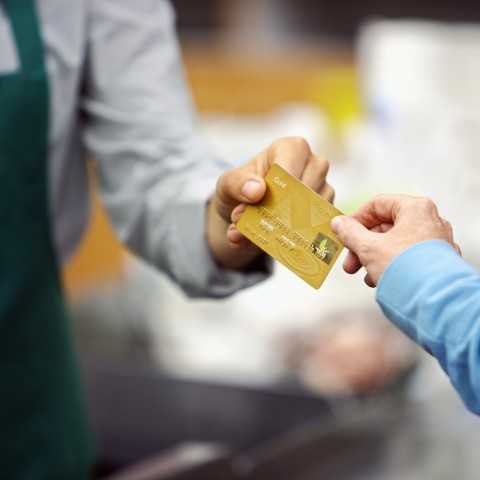 3. Good-To-Have Travel Phrases
Unlike the previous phrases, these are not really essential so much as they are useful. Yet, knowing these will still smooth over some bumps on your journey, more than just knowing the crucial phrases would.
1) O Wi-Fi é gratuito? (Is the Wi-Fi free?)
If you're abroad, your normal cellular plans probably won't have any service, and you'll be totally reliant on publically available Wi-Fi while you're out and about. Just ask a server, clerk, or attendant, and they'll be happy to let you know. Just make sure you're paying attention when they tell you the password!
2) Você pode tirar uma foto pra mim, por favor? (Could you take a picture of me please?)
What would a trip be with no photos to commemorate the event? Just be sure to ask this of someone who actually looks like they'd be willing to, unless you're willing to risk being given the cold shoulder or worse. If you're at a tourist attraction, you'll find that most people are more than happy to take one for you, so long as you take one of them as well!
3) Você tem alguma sugestão? (Do you have any recommendations?)
Eating alone in a restaurant? Or going out with new Portuguese friends or business colleagues? Let them help you decide what to have.
4) Eu gostaria de um lugar para não fumantes, por favor (I'd like to have a non-smoking seat, please)
Though smoking has gone out of fashion in some places, it's still popular in others. In the event you're at a restaurant where smoking is allowed on premises, you can always ask this question to the staff and be seated elsewhere.
5) Uma água, por favor (Water, please)
If you've emptied your glass, or are cutting yourself off after a few drinks, you can always ask for some water. It can be especially useful if the restaurant is busy to the point you need to call out to someone to get service.
6) Você pode trazer a conta? (Could I have the check?)
To finish off the restaurant related phrases, if you're eating with friends or really want to impress your colleagues, taking the bill can be a nice treat for them. Of course, this phrase could come in handy as well if you're eating alone and you're just impatient to leave.
7) O que você recomenda para souvenir? (What do you recommend for a souvenir?)
Now that your trip is over, what better way to cap it all off than a memento, or maybe a gift for friends and family at home? It'll be nicer to have something recommended by the locals than a cheap bauble from the airport store, so go ahead and ask someone you've met what they think.
4. Ways To Improve Communication in a Foreign Country
When traveling, it's possible to keep communication smooth when you don't share a language.
Do so by keeping these five tips in mind. They are aimed to help you communicate with those who cannot speak English very well, and also to keep your traveling experience pleasant!
1. Keep your English simple and easy to understand.
If the person you are talking to speaks very little English, use basic verbs, adjectives, and nouns, and keep sentences short.
However, don't patronize them by talking in pidgin or like you would address a child. Keep your speech simple but natural, and use the correct grammar.
For instance, don't say: "You come when?". If you say: "When will you come?", you will very likely be understood, and may even help someone who wants to improve their English.
2. Ask someone to write information down.
Apply Rule 1 first at your hotel, where the staff is very likely to be able to speak some English. Get them to write down, in their native language, things like: "I would like to go to the airport, please," "Please take me to the beach," or "Where is the closest bathroom?"
These written questions are something you can then give to taxi drivers or any other people who are willing and able to help you. This simple step could make your life a lot easier when you travel to a foreign country!
3. Avoid asking leading questions!
If you want the correct information from a non-native English speaker, that is.
When you need directions, for instance, don't ask: "To get to the bus stop, do I need to turn left here?" If the person didn't really understand you, you will probably just get a smile and a "Yes," which could possibly make you miss your bus.
Rather, you should ask: "Where is the bus stop?" If they understand you, you will get the correct directions.
4. Pick the right person to ask for help.
Time to look at people and think a bit about their appearance! A younger person who looks like they might be a student is more likely to have English skills than the friendly but ancient lady smiling at you from a fruit stall.
If you don't see anyone like that, head into town to the nearest bank, hospital, pharmacy, or hotel. The staff at those places usually speak a bit of English.
5. Know when to quit.
If you stuck to the above rules, but the person you are talking to only stares at you blankly, say thank you and leave. Hanging around hoping someone will suddenly understand and respond is just wasting your time, and may irritate them as well. Go find someone else.
5. PortuguesePod101 Can Help You Master Travel Phrases Easily and Effortlessly!
So, reader, have you found this article helpful?
Do you feel comfortable enough to use some essential travel phrases in Portuguese? We'd also love to hear if you think we left out important travel phrases. Leave your suggestions and opinions in the comments!
PortuguesePod101 takes the lead with many free learning tools to help you master Portuguese reading and speaking easily, and in fun ways.
These tools include:
– An extensive vocabulary list, regularly updated
– A new Portuguese word to learn every day
– Quick access to the Portuguese Key Phrase List
– A free Portuguese online dictionary
– The excellent 100 Core Portuguese Word List
– An almost limitless Lesson Library for learners of all levels
You will also have access to topic-specific recordings like our Before You Travel: Survival Phrases lesson.
Learn even more efficiently with the help of a personal tutor, after taking an assessment test to personalize and tailor your training.
Getting a tutor is also a good option if you meet challenges in your learning, or need to fast-track correct pronunciation and diction. Your very own friendly, Portuguese-speaking teacher will be only a text away on a special app, anywhere, anytime – an excellent option for business persons!
Using a guided learning system that was developed by experts in language and online education, you'll receive personal feedback and constant support to improve in no time. You'll also be tasked with weekly assignments in reading, writing, and speaking to hone your Portuguese speaking skills.
Imagine how impressed your Portuguese friends or colleagues will be when you display your excellent conversational skills! With PortuguesePod101, getting there will be easy and fun.