You have conquered the sometimes scary first steps of learning a new language. Your ears are used to the different rhythms of Portuguese, you can make all of those unique R sounds, and you can even write sentences about familiar topics in the language. Awesome! You've now reached the intermediate Portuguese level, and a whole new world is opening up!
Being an intermediate learner in a foreign language comes with dores e delícias ("pain and joy"). On the one hand, you have already conquered many of the initial stumbling blocks and you can consume some Brazilian media with ease. But on the other hand, there is a real possibility of getting stuck and reaching a plateau in terms of vocabulary, grammar, and self-expression.
Alongside a good dose of motivation and a smart study program, this article will help you with the common issues that intermediate Portuguese students face. How? It brings together 300+ words that you can add to your vocabulary. If you're not familiar with some of them or don't understand how to use them in sentences, this is a good indicator of your next steps! By tackling the different word categories and learning how to use the majority of the words presented, I guarantee you won't get stuck in the intermediate limbo!
So roll up your sleeves, open your notebook, and warm up your vocal cords. It's time to get familiar with the most important intermediate Portuguese nouns, verbs, adjectives, numbers, pronouns, and more!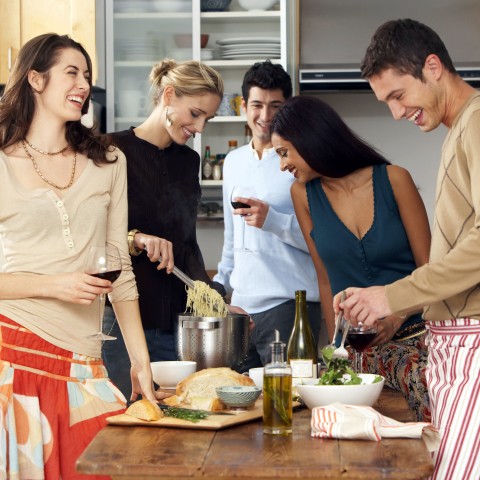 Showcase your intermediate Portuguese skills when chatting with your friends!
Table of Contents
1. Useful Pronouns
You're already familiar with the essential pronouns that accompany or replace nouns. That's great! Now, let's go a step further. Here are some more of these handy words to add to your Portuguese arsenal. 
1 – Tonic Pronouns
At an intermediate Portuguese level, you can use tonic pronouns. These pronouns act as a complement to terms, and they need to be preceded by a preposition. The most common prepositions used in these cases are:
Por ("For")
Para ("For" / "To")
Até ("Until" / "Up to")
If you want to, you can jump to the third section of this article to learn more about intermediate-level Portuguese prepositions. 
| | | |
| --- | --- | --- |
| Person | Portuguese pronoun | English |
| 1st person sg. | mim | me |
| 2nd person sg. | ti | you |
| 3rd person sg. | ele / ela | he / she |
| 1st person pl. | nós | we |
| 2nd person pl. | vós | you (plural) |
| 3rd person pl. | eles / elas | they (masculine / feminine) |
Examples: 
Ela esperou por ti. ("She waited for you.")
Eu vou enviar um e-mail para a professora. ("I will send an email to the [female] teacher.")
Nós fomos até ele. ("We went to him.")
Vocês guardaram bolo para mim? ("Did you [plural] save cake for me?")
When the preposition is com ("with"), the pronouns change a bit:
| | | |
| --- | --- | --- |
| Person | Portuguese pronoun | English |
| 1st person sg. | comigo | with me |
| 2nd person sg. | contigo | with you |
| 3rd person sg. | com ele / com ela | with him / with her |
| 1st person pl. | conosco | with us |
| 2nd person pl. | convosco | with you (plural) |
| 3rd person pl. | com eles / com elas | with them (masculine / feminine) |
Examples:
Vem dançar comigo! ("Come dance with me!")
Eles não quiseram vir conosco. ("They didn't want to come with us.")
Nós vamos viajar com eles. ("We will travel with them.")
Quero assistir um filme com você. ("I want to watch a movie with you.")
Note: Você is an informal Portuguese pronoun and refers to the 2nd person singular, meaning it can be used instead of tu. However, você is a special case and agrees with the 3rd person singular in terms of verb conjugation.
2 – Possessive Pronouns
Possessive pronouns are used to identify the owner of a noun. 
Remember that these pronouns should agree with the noun in gender and number. In the table below, they'll appear in the following order: singular masculine, plural masculine, singular feminine, plural feminine.
| | | |
| --- | --- | --- |
| Person | Portuguese pronoun | English |
| 1st person sg. | meu, meus, minha, minhas | my |
| 2nd person sg. | teu, teus, tua, tuas | your |
| 3rd person sg. | seu, seus, sua, suas | his / her |
| 1st person pl. | nosso, nossos, nossa, nossas | our |
| 2nd person pl. | vosso, vossos, vossa, vossas | your (plural) |
| 3rd person pl. | seu, seus, sua, suas | their |
It's common in Brazil to use the 3rd person singular pronoun with você ("you").
Examples:
Meus livros são novos. ("My books are new.")
Os seus vestidos são lindos. ("Her dresses are beautiful.")
A sua apresentação foi um sucesso! ("Your presentation was a success!")
/! Brazilians also use the contraction of the preposition and the 3rd person personal pronouns to indicate the owner of a noun.
De + ele = dele ("his")
De + eles = deles ("theirs," masculine)
De + ela = dela ("her")
De + elas = delas ("theirs," feminine)
Example: Os vestidos dela são lindos. ("Her dresses are beautiful.")
2. Connect the Dots: Conjunctions
As a beginner, you studied the most important simple conjunctions and learned that they are invariable words that connect clauses. 
As an intermediate Portuguese speaker, you can also use conjunctive phrases, which are two or more words that behave as a conjunction.
| | |
| --- | --- |
| Não só…mas também | Not only…but also |
| Ou…ou | Either…or |
| Nem…nem | Neither…nor |
| Quer…quer | Whether…or |
| Quanto mais…mais | The more…the more |
| Desde que | As long as |
| A não ser que | Unless |
| Mesmo que | Even if / Although |
| Já que | Since |
| Uma vez que | Once / Since |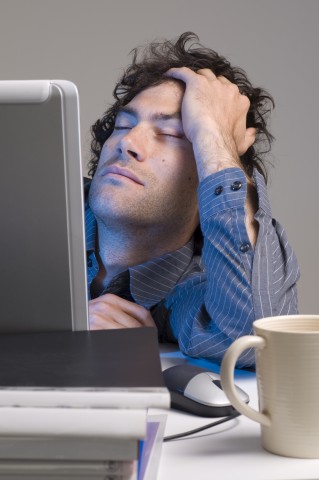 Uma vez que eu termine, eu vou dormir. ("Once I finish, I'll sleep.")
3. Fill in the Blanks: Prepositions
In order to create more complex sentences, you should also know how to use prepositions. Just like conjunctions, prepositions are invariable words with a connective function. But they go a step beyond, also explaining or completing the meaning of the terms being connected. Becoming familiar with how to use these words is a great way to improve your Portuguese and begin sounding more like a native speaker. 
1 – Essential Prepositions
| | |
| --- | --- |
| A | To / On |
| Após | After |
| Até | Until / To |
| Com | With |
| Contra | Against |
| De | From / Of |
| Desde | From / Since |
| Em | In / On / At |
| Entre | Between |
| Para | For / To |
| Por | For |
| Sem | Without |
| Sob | Under |
| Sobre | About / On |
| Trás | Behind |
2 – Prepositional Phrases
Prepositional phrases are two or more words that, together, act as a preposition. The following are just some of the most common Portuguese prepositional phrases.
| | |
| --- | --- |
| Apesar de | Despite |
| De acordo com | According to |
| Por causa de | Because of |
| Por baixo de | Below |
| Embaixo de | Under / Underneath |
| Além de | Besides / Beyond |
| Antes de | Before |
| Em cima de | On top of |
| Ao lado de | Next to / Beside |
| Em frente a | In front of |
| Em vez de | Instead of |
| Perto de | Near / Close to |
| Por trás de | Behind |
| Depois de | After |
| Antes de | Before / Ahead of |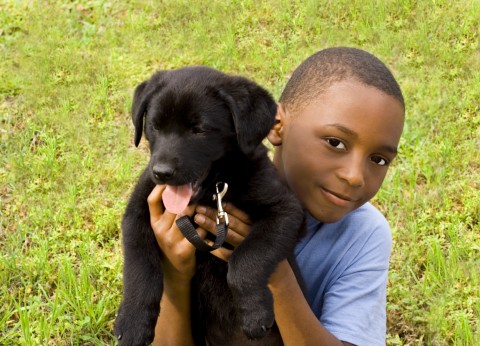 O cachorro está perto do menino. ("The dog is close to the boy.")
4. Making Sense of Numbers
Now that you're ready to engage in more complex conversations—and even go shopping—in Portuguese, knowing how to deal with bigger numbers is a must! 
Thankfully, numbers in Portuguese follow a standard structure with very few surprises. 
1 – From 11 to 20
| | |
| --- | --- |
| 11 | Onze |
| 12 | Doze |
| 13 | Treze |
| 14 | Quatorze |
| 15 | Quinze |
| 16 | Dezesseis |
| 17 | Dezessete |
| 18 | Dezoito |
| 19 | Dezenove |
| 20 | Vinte |
If you want to hear how these numbers sound, watch this lesson on PortuguesePod101.com.
2 – Tens
| | |
| --- | --- |
| 21 | Vinte e um |
| 22 | Vinte e dois |
| 23 | Vinte e três |
| 24 | Vinte e quatro |
| 25 | Vinte e cinco |
| 26 | Vinte e seis |
| 27 | Vinte e sete |
| 28 | Vinte e oito |
| 29 | Vinte e nove |
This structure will repeat for the other numbers, up to a hundred.
| | |
| --- | --- |
| 30 | Trinta |
| 40 | Quarenta |
| 50 | Cinquenta |
| 60 | Sessenta |
| 70 | Setenta |
| 80 | Oitenta |
| 90 | Noventa |
| 100 | Cem |
3 – Hundreds
| | |
| --- | --- |
| 100 | Cem |
| 101 | Cento e um  |
| 102 | Cento e dois |
| 103 | Cento e três |
| 200 | Duzentos |
| 300 | Trezentos |
| 400 | Quatrocentos |
| 500 | Quinhentos |
| 600 | Seiscentos |
| 700 | Setecentos |
| 800 | Oitocentos |
| 900 | Novecentos |
4 – A Thousand and Over
| | |
| --- | --- |
| 1,000 | Mil |
| 2,000 | Dois mil |
| 10,000 | Dez mil |
| 100,000 | Cem mil |
| 110,000 | Cento e dez mil |
| 1,000,000 | Um milhão |
| 1,000,000,000 | Um bilhão |
| 1,000,000,000,000 | Um trilhão |
It's easy to continue from this point, simply combining the numbers you already know.
Examples:
152 – Cento e cinquenta e dois
3,587 – Três mil quinhentos e oitenta e sete
102,999 – Cento e dois mil novecentos e noventa e nove
2,851,100 – Dois milhões oitocentos e cinquenta e um mil e cem
5. Call it by its Name: Nouns
As an intermediate Portuguese learner, it's normal to feel limited by your vocabulary. But don't despair! As you advance in your language learning journey, add these nouns to your portfolio of words to strengthen your speaking and reading abilities. 
Since Portuguese nouns have grammatical gender, the following list includes the corresponding indefinite articles. 
1 – Places
Uma lagoa
Lagoon
Uma cachoeira
Waterfall
Um rio
River
Uma ilha
Island
Uma paisagem
Landscape 
Scenery
Um espaço
Space 
Gap
Uma esquina
Corner
Um estado
State
Um continente
Continent
2 – Time
Um amanhecer
Dawn
Um entardecer
Evening 
Sunset
Um anoitecer
Dusk 
Nightfall
Um século
Century
Um trimestre
Quarter 
Trimester
Um semestre
Semester
3 – People
Uma pessoa
Person
Uma multidão
Crowd
Gente
People
Um bebê
Baby
Uma criança
Child
Kid
Um adolescente
Teenager
Um moço, uma moça
Young man 
Young woman
Um senhor, uma senhora
Old man
Old woman
Sobrenome
Last name
Surname
Apelido
Nickname
4 – House and Household Items
Um jardim
Garden
Um quintal
Backyard
Uma varanda
Balcony
Um sótão
Attic
Um porão
Basement
Um terraço
Terrace 
Gazebo
Um microondas
Microwave oven
Um fogão
Stove 
Cooker
Um forno
Oven
Uma geladeira
Fridge
Um refrigerador
Cooler
Uma lavadora de roupa 
Uma máquina de lavar roupa
Washing machine
Uma pia
Sink
Um chuveiro
Shower
Uma banheira
Bathtub
5 – Meals and Food
| | |
| --- | --- |
| Uma refeição | Meal |
| Uma sobremesa | Dessert |
| Um acompanhamento | Side dish |
| Um vegetal | Vegetable |
| Um garfo | Fork |
| Uma faca | Knife |
| Uma colher | Spoon |
| Um porco | Pork |
| Um bife | Beef |
| Um frango | Chicken |
| Um peixe | Fish |
| Uma soja | Soy |
6 – Body
| | |
| --- | --- |
| Uma cintura | Waist |
| Um tornozelo | Ankle |
| Um calcanhar | Heel |
| Um joelho | Knee |
| Um cotovelo | Elbow |
| Um ombro | Shoulder |
| Um pulso | Wrist |
| Uma sobrancelha | Eyebrow |
| Um dente | Tooth |
7 – Business and Bureaucracy
Um formulário
Form
Uma taxa
Fee 
Rate
Um imposto
Tax
Uma inscrição
Subscription
Um comprovante
Receipt
Um documento
Document
Uns dados
Data
Um sistema
System
Uma certidão
Certificate
Uma licença
License
Um cliente
Client
Um pagamento
Payment
Uma senha
Password
Um cartão
Card
Um cheque
Check
Um troco
Change
Uma carteira
Wallet
Um pagamento
Payment
8 – Units
| | |
| --- | --- |
| Um quilograma | Kilogram |
| Um grama | Gram |
| Uma tonelada | Ton |
| Um litro | Liter |
| Um metro | Meter |
9 – Miscellaneous
Uma foto
Photo
Um vídeo
Video
Uma câmera
Uma câmera fotográfica
Photo camera
Um filme
Movie
Uma série
TV show
Uma história
Story
Uma canção
Song
Uma lenda
Legend
Uma novidade
News 
Novelty
Uma notícia
News
Um bilhete
Note 
Ticket
Um recado
Message 
Errand
Um presente
Gift
Uma surpresa
Surprise
Uma verdade
Truth
Uma mentira
Lie
Uma vontade
Will 
Desire
Um desejo
Desire
Uma necessidade
Need
Um sonho
Dream
Um pedido
Request 
Demand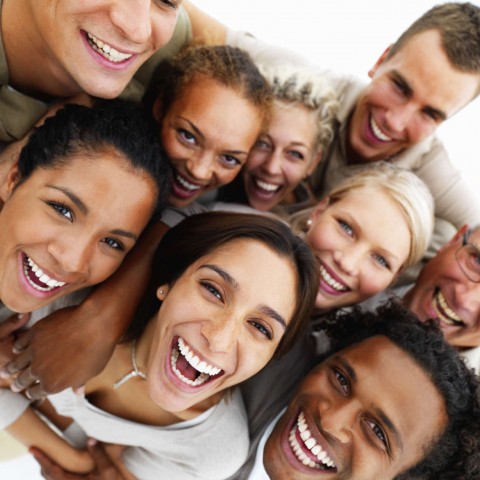 Uma foto dos amigos ("A photo of the friends")
6. Make it Happen: Verbs
After mastering the most important auxiliary verbs in Portuguese (in particular, ser, estar, and ir), it's time to expand your vocabulary with more verbs. They'll definitely help you understand a greater variety of stories and conversations in Portuguese!
Terminar
To finish
Despistar
To mislead
To sidetrack
Aparecer
To appear
To show up
Parecer
To seem
To look like
Dispor
To dispose
To afford
Encontrar
To find
Ajudar
To help
Receber
To receive
Tapar
To close
To plug
Tampar
To cover
Lançar
To throw
To launch
Nadar
To swim
Afogar
To drown
Navegar
To navigate
To browse
Dançar
To dance
Atrair
To attract
Namorar
To date
To flirt
Casar
To marry
Trair
To betray
Mudar
To change
To move
Trocar
To exchange
To swap
To change
Viajar
To travel
Passear
To wander
To walk
Correr
To run
Pular
To jump
Voar
To fly
Escalar
To climb
To scale
Subir
To rise
To climb
Descer
To go down
To descend
Abaixar
To lower
Levantar
To rise
To lift
Sentar
To sit
Tropeçar
To stumble
Preferir
To prefer
To choose
Perceber
To perceive
To realize
Explicar
To explain
Responder
To answer
To reply
Deixar
To leave
To allow
Usar
To use
To put on
Arrumar
To arrange
To straighten
Limpar
To clean
Organizar
To organize
Bagunçar
To mess up
Cozinhar
To cook
Preparar
To prepare
To make
Congelar
To freeze
Descongelar
To defrost
To unfreeze
Temperar
To season
Queimar
To burn
Assar
To bake
To roast
Lavar
To wash
Entregar
To deliver
To give
Desmaiar
To faint
To pass out
Refazer
To remake
To redo
Facilitar
To facilitate
To ease
Complicar
To complicate
Aceitar
To accept
Negar
To deny
To negate
Atender
To meet
To serve
To answer
Demorar
To delay
To linger
Reunir
To get together
To gather
To collect
Atrasar
To delay
Adiantar
To anticipate
To advance
Depositar
To deposit
To place
Agir
To act
To behave
Manusear
To handle
Consertar
To fix
To repair
To mend
Quebrar
To break
To crack
Resolver
To resolve
Solucionar
To solve
To figure out
Pesquisar
To search
To research
Assinar
To sign
Emprestar
To lend
To loan
Melhorar
To improve
Piorar
To worsen
Perdoar
To forgive
To pardon
The following verbs are reflexive.
| | |
| --- | --- |
| Desculpar-se / Se desculpar | To apologize |
| Queixar-se / Se queixar | To complain |
| Machucar-se / Se machucar | To get hurt |
| Maquiar-se / Se maquiar | To put makeup on |
| Pentear-se / Se pentear | To comb |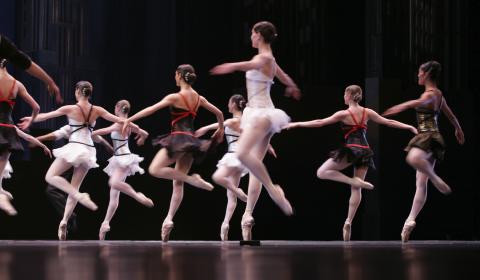 Quem me dera saber dançar balé. ("I wish I knew how to dance ballet.")
7. Qualifiers: Adjectives
Add details and make your sentences richer by using adjectives. 
As you probably remember, Portuguese adjectives need to agree with the noun in both gender and number. In the list below (where applicable), we have listed the singular masculine form first, followed by the singular feminine form.
Agradável
Nice 
Pleasant
Divertido
Divertida
Fun
Estranho
Estranha
Weird
Educado
Educada
Educated / Polite
Fofo
Fofa
Cute
Gentil
Kind / Nice
Maravilhoso
Maravilhosa
Wonderful
Paciente
Patient
Simpático
Simpática
Friendly / Likeable / Pleasant
Responsável
Responsible / Accountable
Vaidoso
Vaidosa
Vain
Sujo
Suja
Dirty
Limpo
Limpa
Clean
Organizado
Organizada
Organized
Arrumado
Arrumada
Tidy
Bagunçado
Bagunçada
Messy
Confortável
Comfortable
Vazio
Vazia
Empty
Cheio
Cheia
Full
Lotado
Lotada
Crowded
Áspero
Áspera
Rough
Duro
Dura
Hard / Tough
Macio
Macia
Soft / Tender
Liso
Lisa
Smooth / Flat
Mole
Soft / Limp
Roxo
Roxa
Purple
Lilás
Light purple
Laranja
Orange
Rosa
Pink
Marrom
Brown
Cinza
Gray
Azedo
Azeda
Sour
Amargo
Amarga
Bitter
Queimado
Queimada
Burnt
Assado
Assada
Roasted / Baked
Frito
Frita
Fried
Cozido
Cozida
Cooked / Boiled
Cru
Raw
Maduro
Madura
Ripe
Ator
Atriz
Actor 
Actress
Cantor
Cantora
Singer
Dançarino
Dançarina
Dancer
Enfermeiro
Enfermeira
Nurse
Babá
Babysitter
8. Modify Verbs: Adverbs
There are countless Portuguese adverbs you can use to modify verbs, adjectives, adverbs, and prepositions. Since you've already mastered the most commonly used adverbs, you can now introduce more complex ones to your sentences. 
1 – Manner
Assim
This way 
Thus
Felizmente
Fortunately
Infelizmente
Unfortunately
Rapidamente
Quickly
Calmamente
Calmly
Igualmente
Equally
Depressa
Quickly
Devagar
Slowly
À toa
Idly
Às pressas
In a rush
À vontade
At ease
2 – Time
| | |
| --- | --- |
| Agora | Now |
| Ainda | Still |
| À tarde | In the afternoon |
| À noite | In the evening |
| De manhã | In the morning |
| De repente | Suddenly |
| Imediatamente | Immediately |
3 – Place
| | |
| --- | --- |
| Ali | There |
| Acima | Above |
| Abaixo | Below |
| Atrás | Behind |
| À direita | On the right |
| À esquerda | On the left |
| Em volta | Around |
4 – Intensity
Bastante
Quite
Enough
Demais
Too much
Tão
So
As
Tanto
So much
Quase
Almost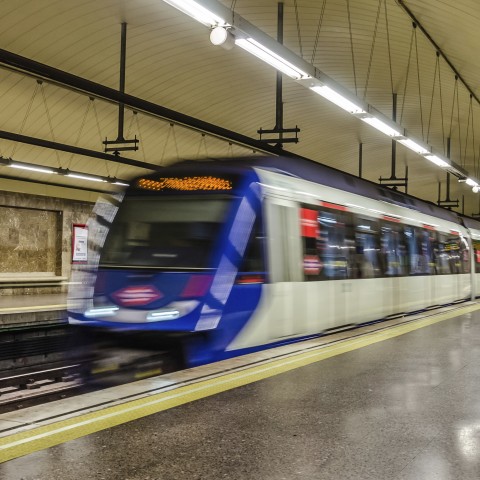 O trem se move rapidamente. ("The train moves quickly.")
9. Sound Like a Local
Now that you're at an intermediate Portuguese level, it's a good idea to also learn some local slang terms. Keep in mind that these are all informal words and expressions to be used with friends and close family. Avoid them in job interviews and other formal situations.
While we're at it, let's take a look at common Brazilian interjections you can use in daily life. After all, you're bound to bite your lip or be surprised at some point…and when that happens, there's nothing better than to express your feelings the Brazilian way! 
1 – Commonly Used Slang Terms
CaraManoMeuVelho
DudeBroMate
Depending on the region of Brazil, different words are used to refer to friends. For example, cara is more common in Rio de Janeiro, while mano can be heard in São Paulo.
Cara de pau
To have the nerve toBrazen-faced
Ele teve a cara de pau de mentir para mim. ("He had the nerve to lie to me.")
Ela é uma cara de pau! ("She has nerve!")
Gringo
Foreigner
This one is used to refer to foreigners, especially English speakers or Europeans. Don't worry—in Portuguese, gringo isn't pejorative!
Tipo
Like
It literally translates to "type," but it's used just as "like" in English. It's the most commonly used Brazilian filler word.
2 – Interjections
Poxa!
Gosh! 
Oh no!
Puxa!
Gee!
Meu Deus!
My God!
Oba!
Uhul! 
Yay!
Cuidado!
Watch out!
Ei!
Hey!
Bravo!
Congratulations! 
Well done!
Ai!
Ouch!
Droga!
Damn!
Nossa! 
Minha nossa!
Oh my!
Eita!
Used to express surprise
Uau!
Wow!
Ufa!
Used to express relief
Credo!
Good grief! 
Heavens! 
Good heavens!
Vamos!
Let's go!
Força!
Stay strong!
Chega!
Enough!
Socorro!
Help!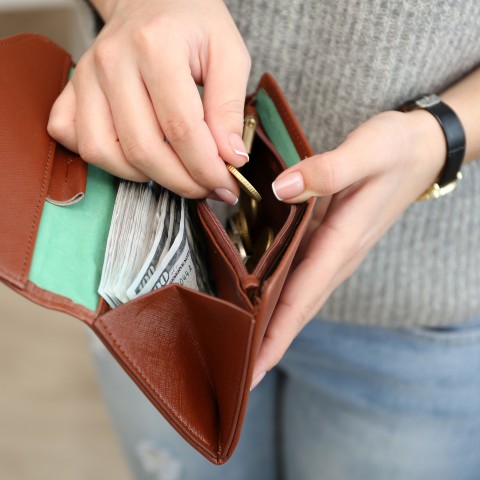 Tô cheia de grana. ("I have a lot of money," informal, female speaker)
10. Continue Learning with PortuguesePod101!
This was quite the list, with more than 300 words that intermediate Portuguese learners should master. The different categories we presented are all important for constructing coherent sentences. With these words, you'll be able to join conversations online and in person, read and hear a variety of Portuguese content, and continue advancing in your language learning journey!
Remember that you can always come back to this guide to refresh your memory and check how your vocabulary and grammar are moving along. On this note, let us know if you enjoyed this article! Do you think it is a good resource for intermediate learners? Did we miss any word category you would have liked to see here? Feel free to drop us a comment with any questions you might have, and we'll gladly get back to you. 
And now, it's time to put it all into practice. To start, you can check out our tips for remembering words better. Or, go ahead and browse through our vocabulary lists and other free resources on PortuguesePod101.com. 
If you want to take your learning experience further, members of PortuguesePod101.com get access to the largest language lesson library in the world, with thousands of real lessons by real teachers. Perfect for anyone who wants to learn from anywhere, feel motivated, and be ready to speak Portuguese with confidence.
Happy Portuguese learning!
November 17, 2021
Brazil is known for its natural resources and beauty. Animals and plants are something to behold if you're visiting this country from any part of the world. Even though the Amazon rainforest is the most famous natural landscape in Brazil, the country is home to six more biomes—each with its own species! 
To meet and interact with a whole new world of animals is an amazing experience. One second, we don't even know a species exists. The next second, there it is: a completely unique being!
Getting to know the names of animals in Portuguese could keep you busy for a long time…but it's certainly a fun task, especially for animal lovers. 
Our comprehensive list of animal names in Portuguese covers both native fauna and animals common to other parts of the world. Combining animals you're familiar with and more exotic species is a great way to broaden your knowledge about the numerous manifestations of nature's wonders.
Table of Contents
1. Domestic Animals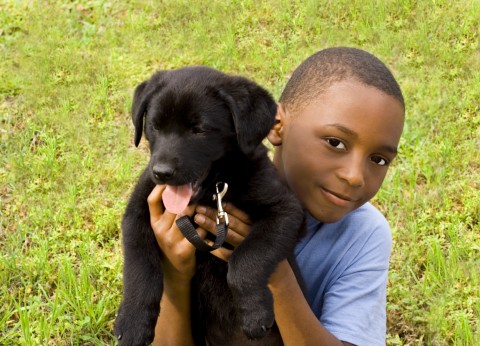 Yes: You will learn the Portuguese word for "puppy" so you can fully enjoy cute memes.
We'll begin our list with some less exotic animal names in Portuguese—those of housepets! 
There is a growing love for pets in Brazil, with the 2019 National Health Survey indicating that dogs are present in 46.1% of Brazilian homes while cats are present in 19.3%. If we combine these totals, we find that these animals are present in 47.9 million homes. 
This number is astonishing if we keep in mind that the country's population of children (aged 0 to 12) was only 35.5 million, according to recent statistics.
Before we move on to our list, here's the Portuguese word for "puppy": filhote.
Cão
Cachorro (m.)
Cachorra (f.)
"Dog"
Gato (m.)
Gata (f.)
"Cat"
Pássaro
"Bird"
Peixe
"Fish"
Porquinho-da-índia
"Guinea pig"
Coelho (m.)
Coelha (f.)
"Rabbit"
Rato (m.)
Rata (f.)
"Mouse"
Pay attention: Although the name of this animal sounds in Portuguese like "rat," rato and rata actually mean "mouse." Use ratazana for "rat." If referring to mice (plural form of "mouse"), the correct word is camundongos.
Common Pet Birds and Fish
In addition to more traditional pets, many Portuguese households keep birds or fish as pets. The bird species in Brazil really bring a special "sparkle" to the country's fauna, and we also host a number of interesting fish varieties. Let's take a look at which ones are most commonly kept as pets in Brazil. 
A- Birds
| | |
| --- | --- |
| Canário | "Canary" |
| Papagaio | "Parrot" |
| Calopsita | "Cockatiel" |
| Maritaca | "Pionus" |
B- Fish
| | |
| --- | --- |
| Peixe betta | "Betta fish" |
| Paulistinha | "Zebrafish" |
| Carpa | "Carp" |
| Peixe-palhaço | "Clownfish" |
2. Farm Animals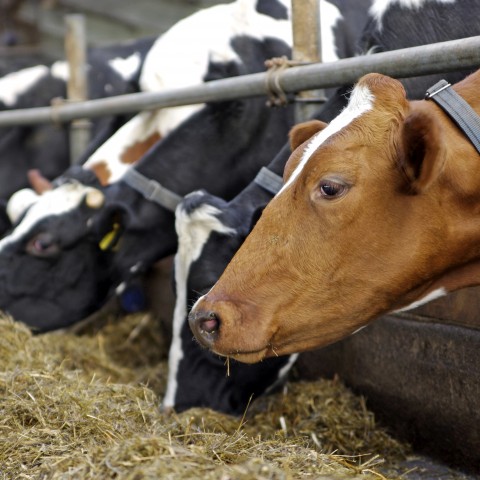 Next stop: the farm!
The raising of livestock is a driving economic activity in Brazil, with cows, chickens, and pigs being the most common farm animals in the country. Portugal's main livestock product is pig, according to 2018 national statistics, while Angola aims to raise cattle as an economic buffer against the fluctuating oil prices. 
While you're likely to encounter a variety of wildlife species from one Portuguese-speaking country to another, our farm animals are largely the same. One interesting exception is the ema: This giant bird is similar to the ostrich, but with feathery, longer wings. It can be found in Brazil, Paraguay, Bolivia, and Argentina.
Here are the names of common farm animals in Portuguese:
Vaca (f.)
"Cow"
Boi
"Ox"
Touro
"Bull"
Porco (m.)
Porca (f.)
"Pig"
Cavalo (m.)
Égua (f.)
"Horse"
Burro
"Donkey"
Peru (m.)
Perua (f.)
"Turkey"
Pato (m.)
Pata (f.)
"Duck"
Bode (m.)
Cabra (f.)
"Goat"
Pro tip: Cabra is not the same as cobra ("snake"). In the Brazilian Northeast, cabra is also a slang term for "bloke" or "guy." So, pay attention to the context and use this word carefully.
Ovelha
"Sheep"
Cordeiro
"Lamb"
Ganso (m.)
Gansa (f.)
"Goose"
Ema
"American rhea"
Galinha
"Hen"
Galo
"Rooster"
The national animal of Portugal is the Rooster of Barcelos. This iconic character is at the heart of a folktale, in which it saves a man from being mistakenly sentenced to death in the city of Barcelos. This rooster is depicted in many colorful versions: paintings, drawings, and especially as colorful souvenir statues that tell anyone "I've been to Portugal," at just one glance.
3. Wild Animals 
Animals start getting even more interesting when we leave the farm and go farther out to the countryside—or even into the wild. That's where the most diverse native Portuguese animals live. 
Due to the large continental size of Brazil, as well as its diversity of climate and land, this country is especially known for its rich selection of fauna. 
Here are the names of some wild animals in the Portuguese language:
Tatu
"Armadillo"
Bicho-preguiça
"Sloth"
(Literally: "Laziness animal")
Tamanduá
"Anteater"
Quati
"Coati"
Paca
"Paca"
Macaco (m.)
Macaca (f.)
"Monkey"
Macaco-prego
"Capuchin monkey"
Onça
"Jaguar"
Veado 
Cervo
"Deer"
Pro tip: The name of this animal sounds in Portuguese like another word. Do not mistake cervo [e] for servo [ɛ]. The first one is "deer," but the second is "servant"!
4. Aquatic Animals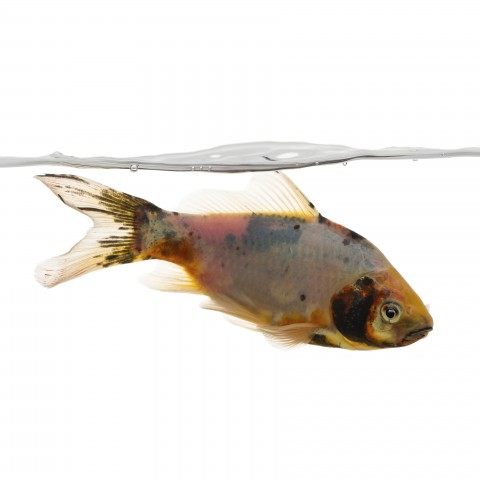 There are plenty of fish in the sea—and beyond!
Still searching in the wilderness, we find some very fascinating aquatic animals. All Portuguese-speaking countries are closely related to the sea and marine life: Angola, Brazil, Guinea-Bissau, Mozambique, and Portugal are coastal countries. Cape Verde, Eastern Timor, and São Tomé and Príncipe are insular countries with access to oceans containing lots of sealife. And let's not forget the Amazon River, which is home to many awesome—and many yet undiscovered—freshwater animals.
From aquatic life sanctuaries in Portugal to Brazilian turtle protection programs, and from sunny beaches to rivers and waterfalls, there are many opportunities for tourists to meet beautiful native Portuguese animals that live in or around the water.
Lontra
"Otter"
Capivara
"Capybara"
Caranguejo
"Crab"
Peixe-boi
"Manatee"
Lagosta
"Lobster"
Tubarão
"Shark"
Baleia
"Whale"
Polvo
"Octopus"
Lula
"Squid"
Estrela-do-mar
"Starfish"
Água-viva
Medusa
"Jellyfish"
Marisco
"Shellfish"
Tartaruga
"Turtle"
Golfinho
"Dolphin"
Boto
"River dolphin"
The river dolphin is the main character of one of the most interesting Brazilian myths, called boto-cor-de-rosa ("the pink river dolphin"). The legend says this Amazonian animal walks the land transformed as a charming gentleman wearing all-white clothing on moonlit nights.

The seducer dolphin-man is said to be the father of all children from unknown fathers, according to this legend of Northern Brazil.
5. Bugs and Insects
Our next set of animal names in Portuguese might make you a bit uncomfortable.
We might not like them, and we might even find them disgusting…but we all share the same planet. Language learners should know at least a few bug and insect names in Portuguese! Here are some common ones you'll find in Brazil and abroad:
| | |
| --- | --- |
| Joaninha | "Ladybug" |
| Besouro | "Beetle" |
| Aranha | "Spider" |
| Escorpião | "Scorpion" |
| Centopeia | "Centipede" |
| Minhoca | "Worm" |
| Barata | "Cockroach" |
| Abelha | "Bee" |
| Vespa | "Wasp" |
| Borboleta | "Butterfly" |
| Mariposa | "Moth" |
| Formiga | "Ant" |
| Grilo | "Cricket" |
| Lesma | "Snail" |
| Carrapato | "Tick" |
| Mosca | "Fly" |
| Mosquito | "Mosquito" |
6. Birds, Reptiles, and Amphibians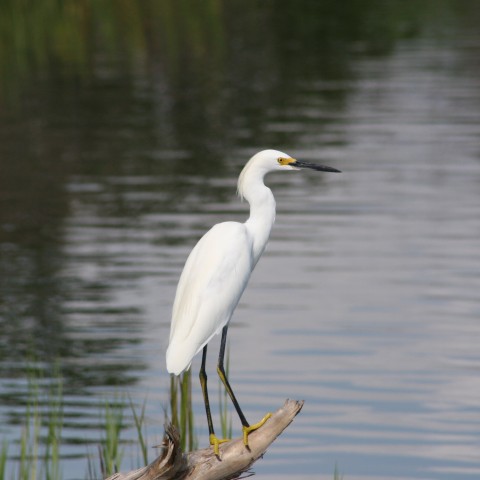 You are now entering the rabbit hole of Portuguese bird names.
Are you ready to learn a few more specific animal names in Portuguese? Brazil is home to a particularly diverse population of birds, reptiles, and amphibians, and knowing their names will make your trip even more memorable.
Even though our list here is quite comprehensive, you could study even more species using Cornell University's Ornithology database. Their well-designed Merlin app is a practical way to explore and identify many different types of birds worldwide.
Tucano
"Tucano"
Arara
"Macaw"
Jaburu
"Jabiru"
Garça
"Great egret"
Falcão
"Falcon"
Gavião
"Hawk"
Bem-te-vi
"Great kiskadee"
Alma de gato
"Squirrel-cuckoo"
Andorinha
"Swallow"
Pardal
"Sparrow"
Pomba
"Pigeon"
Coruja
"Owl"
Quero-quero (also known as abibe-do-sul in Portugal)
"Southern Lapwing"
Pica-pau
"Woodpecker"
Jabuti
"Tortoise"
Jacaré
"Cayman"
Cobra
"Snake"
Fun fact: The Brazilian Butantan Institute developed the very first anti-ophidic antidotes in the world. Its Biologic Museum has a collection of some of the most famous and intriguing Brazilian snakes, such as the jararaca, sucurí, surucucú, cascavel ("rattlesnake"), coral, and many more.
Lagarto
"Lizard"
There is also a general label for any small lizard in many parts of Brazil: calango.
Sapo 
Rã
"Frog" / "Toad"
7. Animal Body Parts
Now that you've learned a few common animal names, the next step is to learn the names of their unique body parts. Adding these words to your Portuguese animal vocabulary will help you better describe the animals you encounter during your visit!
Rabo
Cauda
"Tail"
Pelo
"Hair"
Dente
"Tooth"
Presa
"Fang"
Garra
"Claw"
Chifre
"Horn"
Galhada
"Antlers"
Casco
"Hoof"
Pena
Pluma
"Feather"
Asa
"Wing"
Bico
"Beak"
Barbatana
"Fin"
Tentáculo
"Tentacle"
Juba
"Mane"
Tromba
"Trunk"
Antena
"Antenna"
Pata
"Leg"
Pro tip: The word pata does not refer to a human leg (which is called perna). Also, remember that pata is Portuguese for a female duck!
Escama
"Scale"
8. Animal-Related Idioms and Slang Expressions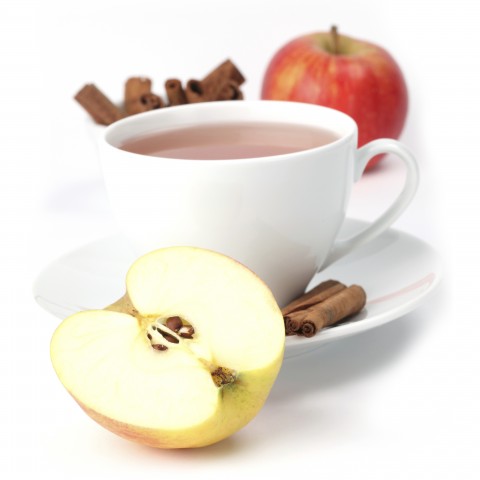 Behold the most expected guests at teatime: kettle beak and teacup wing.
After this tour de force through the zoo, here's a final souvenir from this extensive journey of studying animal names in Portuguese: idioms and slang expressions!
These expressions have the same meaning as their English translations:
 "Butterflies in the stomach" – Borboletas no estômago
"The black sheep of the family" – A ovelha negra da família
Now, these idioms and expressions might sound odd to a tourist in a Portuguese-speaking country:
 "The teacup's wing" – A asa da xícara [de chá]
"Kettle's beak" – Bico da chaleira
"He does not resist a skirt's tail." – Ele não resiste a um rabo de saia.
The teacup's handle is sometimes called its "wing," and the kettle's spout is called its "beak."
On the other hand, a "skirt's tail" is a slang term for "woman" in a flirtatious context. If someone is interested in a woman, they might pay attention to the movement of her skirt (the way a hunter might notice the tail movement of an animal).
"Dog's ears" – Ouvidos caninos
Someone with a sensitive sense of hearing is said to have a dog's ears.
"Jaguar's friend" – Amigo da onça
A "jaguar's friend" is someone who is an inconvenience to others, namely a friend who doesn't act so friendly. This expression was made popular by a 1940s comic strip created by Péricles de Andrade Maranhão in the O Cruzeiro magazine.
"I don't like you because you're (a) donkey." – Não gosto de você porque você é burro.
A donkey is a stubborn animal and a synonym for "dumb" in Brazil. In this case, it's used as an adjective. 
 "Man, we've paid the duck…" – Cara, nós pagamos o pato…
As odd as this idiom might sound, "to pay the duck" means to be fooled. A variation of this expression is "to fall like a duck," used when someone "falls" for a prank or a scam.
"He turned into a macaw." – Ele virou uma arara.
"She turned into a beast." – Ela virou um bicho. / Ela virou uma fera.
These phrases are used to express that someone became very angry over something.
9. Conclusion
You've now learned a good variety of animal names in Portuguese, as well as other relevant words and phrases. Unfortunately, it would be impossible to include every animal on this list. But we did our best to include both animals you'll find in Brazil and those you're more familiar with from abroad. 
But you don't have to stop here!
If you can't get enough of Mother Nature's children and want to learn even more animal words in Portuguese, create your free lifetime account on PortuguesePod101.com today.
PortuguesePod101 is the most complete and interesting multimedia hub for Portuguese learners at every level, from Beginner to Advanced. We provide everything you'll need to improve your language skills: short video lessons, themed vocabulary lists, free content, and even private Portuguese classes to expedite your learning progress. 
Never mind old, dusty grammar books or months of repetitive exercises in your language learning app. Get real and start a solid path to knowledge at PortuguesePod101.com!
Before you go, what's your favorite animal? Do you know its name in Portuguese?
October 7, 2021
The biggest challenge for most language learners is actually speaking their target language. In order to have successful interactions with native speakers, one must have a solid working knowledge of the language in question. But luckily, we can also rely on subtle cues from body language, eye movement, and even the context to help us navigate our conversations with others.
That is, unless we're on a phone call. 
When speaking on the phone, we no longer have this additional input to fall back on. 
If the thought of having a telephone conversation in Portuguese makes you anxious, you're not alone. This is a common fear among learners of the language! How can you expect to put together a coherent sentence on the phone with a stranger, when it's hard enough chatting with friends and acquaintances in person? 
But if you know the rules, the game will be much easier to play. If you practice, you may actually end up enjoying the game! 
In this article, we'll teach you the most useful Portuguese phone call phrases for each stage of a phone conversation. Knowing these phrases will prepare you to greet your interlocutor, introduce yourself, handle both casual and professional calls, deal with connection issues, and much more. By the time you finish reading, you'll be able to handle any phone call in Portuguese with greater ease and confidence—whether you're phoning a friend, your boss, or a complete stranger.
Table of Contents
1. Vocabulary Terms Related to Phone Calls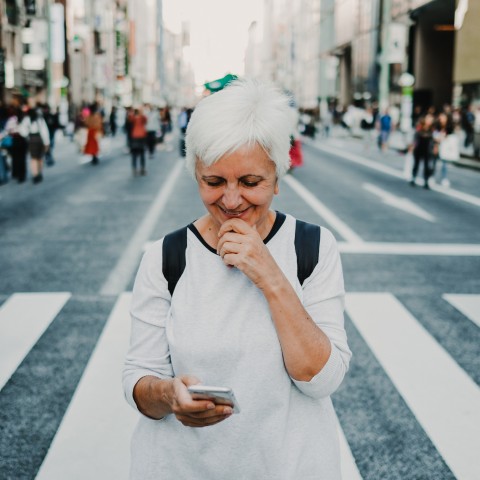 Let's get into the basics before we reach out to make a call, right?
Before you jump right into your next phone call, it would be wise to learn some general Portuguese phone call words and phrases. Here are some common terms you should know: 
Telefone – "Phone"
(Telefone) celular – "Mobile phone"
Telefone fixo – "Landline"
Bateria – "Battery"
Carregador – "Charger"
Carregar / Recarregar – "To charge" / "To recharge"
Ligação (telefônica) – "Phone call"
Número de telefone – "Phone number"
Ligar – "To call"
Desligar – "To hang up"
Ligar de volta / Retornar – "To call back"
O telefone está tocando – "The phone is ringing"
You might want to learn some specific vocabulary related to mobile phones in our free vocabulary list Screen Time: Words and Phrases for Using Your Smartphone on PortuguesePod101.com.
Some phone phrases in Portuguese are suitable for both formal and informal contexts. Those that are only suitable in formal contexts are distinguished through the use of formal language. Here are some respectful terms you might use during a formal or professional phone call:
Doutor / Doutora – "Doctor" or "Dr."
Senhor – "Mr."
Senhorita – "Ms."
Senhora / Dona – "Mrs." 
2. Picking up the Phone
Of course, your Portuguese phone conversation is going to start with a greeting. There are three common ways to answer the phone in Portuguese:
Alô! – "Hello!"
Pronto. – "Ready (to talk)."
Estou. [Portugal] – "I am (listening)."
The most frequent phone greeting in Portuguese is Alô, though older people tend to answer the phone by saying their name or family name. This goes back to when landline phones were more common and people could not see who was calling or picking up. 
3. Introducing Yourself
The next set of Portuguese telephone phrases you need to learn are those for introducing yourself: 
Aqui é o Pedro, sobrinho da Marisa. – "This is Pedro, Marisa's nephew."
É a Ana. – "It's Ana."
Quem fala? / Quem está falando? – "Who is speaking?"
Sou amigo dele. / Sou amiga dela. – "I am a friend of his." / "I am a friend of hers."
Note: Amigo is the singular masculine noun for "friend," while amiga is the singular feminine form. 
A polite addendum is to ask if the person is busy before moving forward with your call: 
Você pode falar agora? – "Did I catch you at a bad time?"
Você está ocupado / ocupada? – "Are you busy?"
Note: Ocupado is the singular masculine adjective for "busy," while ocupada is the singular feminine form.
4. Stating the Reason for Your Call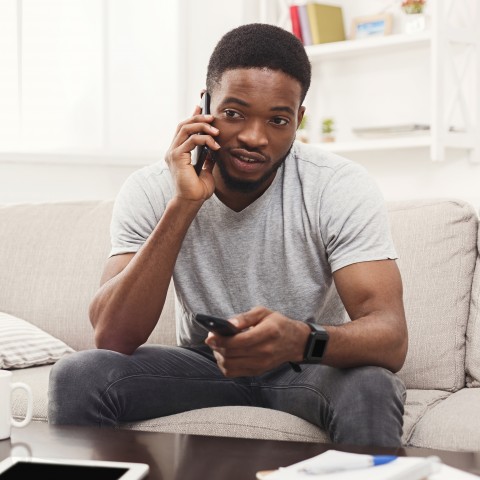 "I'd like to make a dentist appointment."
Things start to get interesting here—we're getting somewhere. Here's an informal Portuguese phone phrase pattern to discuss your reason for calling: 
Estou ligando para perguntar sobre a operação. – "I'm calling to ask about the surgery."
Estou ligando para saber das novidades. – "I'm calling to check on you."
Now, here are some formal phrases: 
Eu gostaria de marcar uma consulta. – "I'd like to make an appointment."
Eu gostaria de confirmar a presença dela no meu evento. – "I'd like to confirm her presence at my event."
Eu queria fazer uma reserva para três pessoas para hoje à noite. – "I would like to make a reservation for tonight for three people."
Recebi uma ligação deste número e estou retornando a chamada. – "I've received a call from this number and am returning the call."
5. Asking to Speak to Someone
Did you call the right number? Will you be able to reach the right person on this call? 
Here are the most common phone call phrases in Portuguese for asking to speak to someone:
Posso falar com a Marisa? – "May I talk to Marisa?"
Marisa está? – "Is Marisa there?"
É do gabinete da Dra. Márcia? – "Am I talking to Dr. Márcia's cabinet?"
Eu gostaria de falar com o Dr. Stefano, por favor. – "I'd like to talk to Dr. Stefano, please."
Sometimes we know our reason for calling, but we aren't sure who we need to talk to. But fear not. It's simple to inquire about this:
Com quem eu posso falar para resolver problemas sobre o meu plano de internet? – "Who can I talk to to solve problems with my internet plan?"
6. Asking Someone to Hold
Perhaps you're the one receiving a call, and you need to ask the other person to wait while you retrieve information or transfer them to another department. Below are a few Portuguese telephone phrases you can use to ask the caller to wait a moment. 
Um minuto, por favor. – "Just a minute, please."
Um instante, por favor. – "Just a moment, please."
Poderia aguardar na linha por um segundo? – "Could you hold the line for a second?"
Vou passar para ele / ela. – "I'll put him / her on."
Vou lhe transferir para o escritório dele / dela. Não desligue. – "Let me transfer you to his / her office. Don't hang up."
7. Leaving a Message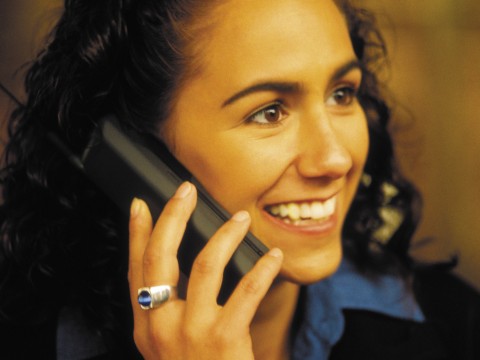 "No problem, I'll call later!"
If you're unable to reach the person you wanted to speak with, you should have the opportunity to leave them a message. Below are a few common phone call phrases in Portuguese that are often used in this type of situation. Keep in mind that these phrases can be used in both formal and informal contexts. 
No momento, ele / ela não está. Gostaria de deixar um recado? – "(S)he is not here at the moment. Would you like to leave a message?"
Ele / ela não está disponível no momento. – "(S)he is not available right now."
Não posso falar agora. Posso te ligar daqui a pouco? – "Can't talk to you now. Can I call you soon?"
Posso deixar um recado? – "Can I leave a message?"
Você poderia pedir para ele / ela me ligar de volta ainda hoje? – "Would you ask him/her to call me back today?"
Eu ligo depois então. – "I'll call later, then."
8. Asking for Clarification
Unfortunately, electronic communications are vulnerable to technical problems that can lead to misunderstandings. This is when we need to take a step back and take things slow. Here are several Portuguese phone phrases you can use to let your interlocutor know there are connection issues or to ask for clarification:
Desculpe, não consigo te ouvir direito. – "Excuse me, I can't hear you."
A ligação está ruim. – "The connection is bad."
O sinal (do celular) está péssimo. – "The (cell phone) signal is awful."
Você poderia soletrar seu nome, por favor? – "Could you spell your name, please?"
Desculpe, a ligação caiu. – "I'm sorry, we got cut off."
Você ligou para o número errado. – "You've dialed the wrong number."
Desculpe, foi um engano. – "I'm sorry, I have the wrong number."
A bateria do celular está fraca. – "The cell phone battery is almost dead."
If your mobile phone just isn't working at all, maybe you should resolve some issues with your phone plan. In that case, don't hesitate to check out our vocabulary list Words and Phrases for Talking About Your Phone Plan on PortuguesePod101.com.
9. Ending the Phone Call
It's been an interesting ride. But all things must come to an end. 
The final set of Portuguese phone call phrases you'll learn today are those for ending the phone call.
Muito obrigado / obrigada pela ajuda. – "Thank you very much for helping."
Obrigado is used by male speakers to say "thank you" and obrigada is used by female speakers.
Está bem. Nos falaremos mais tarde. – "Alright. We'll speak later."
Até logo! – "Goodbye!"
Tchau! – "Bye!"
If you're ending a formal call, consider using this one: 
Obrigado / Obrigada por ligar. Tenha um ótimo dia. – "Thanks for calling. Have a great day."
10. Samples of Telephone Conversations in Portuguese
You've now seen a variety of phone call phrases in the Portuguese language, but do you know how to use them? To make the learning process more organic for you, we've included two sample phone dialogues below. The first one is an informal conversation between two friends; the second one is a formal conversation between one of those friends and a restaurant attendant. 
Informal telephone conversation in Portuguese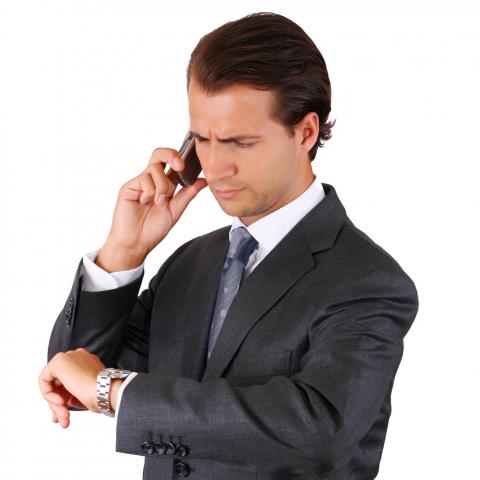 Set up an appointment in two steps: one formal call and one informal call.
Michel calls his friend Rosa to make an invitation for breakfast together on a weekend:
| | |
| --- | --- |
| Dona Lara: Alô! | Mrs. Lara: Hello! |
| Michel: Alô! Rosa? Aqui é o Michel, tudo bem? | Michel: Hello! Rosa? Michel speaking, how are you? |
| Dona Lara: Oi, Michel. Aqui é a mãe dela. Só um minuto, já passo pra Rosa. | Mrs. Lara: Hi, Michel. This is her mother speaking. Just one minute, I'll put Rosa on. |
| Michel: Oi, Dona Lara! Desculpe, não te reconheci. Estou bem, obrigado. | Michel: Hello, Mrs. Lara! I'm sorry, I didn't notice it was you. I'm fine. Thanks. |
| Rosa: Alô! Michel? | Rosa: Hello! Michel? |
| Michel: Oi, Rosa. Tudo bem? | Michel: Hello, Rosa. How are you? |
| Rosa: Tudo, e aí? Me desculpa, mas acabou a bateria do meu celular. | Rosa: I'm fine, how are you? I'm sorry, my phone's battery is dead. |
| Michel: Sem problema. Escuta, você tem planos pro fim de semana? | Michel: No problem. Listen, do you have plans for the weekend? |
| Rosa: Não tenho nada marcado ainda. Por quê? | Rosa: I don't have anything scheduled yet. Why? |
| Michel: Quer tomar um café da manhã no restaurante do clube no domingo? | Michel: Would you like to have breakfast in the club's restaurant on Sunday? |
| Rosa: Acho a ideia legal, mas domingo eu vou à igreja. | Rosa: It's a nice idea, but I go to church on Sunday. |
| Michel: E de sábado, você está livre? | Michel: What about Saturday? Do you have something on? |
| Rosa: De sábado está bem. A que horas? | Rosa: Saturday's okay. At what time? |
| Michel: Legal! É às nove e meia, mas ainda vou ligar lá pra reservar. Depois te ligo pra confirmar, beleza? | Michel: Cool! At half past nine, but I still have to call to make reservations. I'll call you later to confirm, right? |
| Rosa: Ótimo! Obrigada pelo convite. | Rosa: Alright! Thanks for the invitation. |
| Michel: Por nada! Até mais! | Michel: You're welcome! See you later! |
| Rosa: Tchau! | Rosa: Bye! |
Formal telephone conversation in Portuguese
The two friends have set the time and place. Now Michel calls the restaurant to reserve a table.
| | |
| --- | --- |
| Atendente: Restaurante do Clube Gaivota, Regiane, boa tarde. | Attendant: Clube Gaivota's Restaurant. Here's Regiane, good afternoon. |
| Michel: Boa tarde, Regiane. Meu nome é Michel e eu gostaria de fazer uma reserva de mesa para o sábado. | Michel: Good afternoon, Regiane. My name is Michel and I'd like to make a reservation for a table for Saturday. |
| Atendente: Senhor?  | Attendant: Sir? |
| Michel: Alô! Você está me ouvindo? | Michel: Hello! Are you listening? |
| Atendente: Desculpe, a ligação está ruim. Mas eu consigo te ouvir agora. | Attendant: I'm sorry, the connection is bad. But I can hear you now. |
| Michel: Certo. Gostaria de reservar uma mesa para dois no café da manhã de sábado. | Michel: Right. I'd like to make a reservation for two on Saturday for breakfast. |
| Atendente: Está bem. O café começa às sete e meia. A reserva é para que horas? | Attendant: Okay. Breakfast starts at half past seven. What is the time of the reservation? |
| Michel: Às nove e meia. | Michel: Half past nine o'clock. |
| Atendente: Certo, temos uma mesa disponível para este horário. A reserva é em nome de quem? | Attendant: Right. We have a table available for this time. Who's making the reservation? |
| Michel: Michel. | Michel: Michel. |
| Atendente: Está bem, senhor Michel. A reserva foi feita: mesa para dois no sábado, às nove horas e trinta minutos. | Attendant: Alright, Mr. Michel. The reservation is complete: table for two on Saturday at half past nine o'clock. |
| Michel: Perfeito! Muito obrigado. Tchau, tchau. | Michel: Perfect! Thank you very much. Bye, bye. |
| Atendente: Até mais. | Attendant: See you later. |
11. Takeaway
The aim of this guide was to familiarize you with the most essential Portuguese phrases for a phone call. Once you have these down, you'll feel more comfortable with both the relevant vocabulary and the more specific phrases for personal and business purposes. 
Are there any phone call phrases or situations we didn't include that you'd like to learn? Let us know in the comments and we'll get back to you! 
This is a great step toward improving your language skills. But if you want to go deeper, you'll have to use more precise and powerful learning tools.
PortuguesePod101 offers a comprehensive teaching program that combines multimedia resources, short vocabulary lists, and detailed lessons for learners at every level. 
You can learn even faster using our MyTeacher service. This gives you 1-on-1 interaction with a personal tutor who can help boost your performance while delivering solid results. 
Master Portuguese phone conversations and so much more with PortuguesePod101!
September 23, 2021
Are you learning Portuguese but feel that you're missing the words you need to start participating in conversations? Studying a new language comes with its challenges, and one could easily become intimidated by the sheer number of words that exist. 
Luckily, most Portuguese speakers get by on a daily basis with just around 1000 words. No need to devour a whole dictionary to start speaking the language; all you need to get started are some basic Portuguese words for beginners. 
With only a few weeks of practice, you'll have become familiar with around 200 words—enough to be considered a functional beginner. By the time you reach 1000, you'll be well on your way to becoming a true conversationalist!
Let's start today by going over those first couple hundred beginner Portuguese words. These will serve as a solid foundation that will help you engage in conversations, understand dialogues, and even deal with some day-to-day situations.
Table of Contents
1. Handy Pronouns
Pronouns are, without a doubt, some of the first words you'll encounter in Portuguese. And for a good reason: Whenever we're talking about people, personal pronouns are the first to pop up. 
There are several types of pronouns, and each type serves a different function within a sentence. For now, let's just focus on the most common ones. 
1 – Personal Subject Pronouns
Talking about someone? Then personal subject pronouns are your best friend. They substitute the subject of a sentence:
A professora chegou atrasada. ("The professor [feminine] arrived late.") 
Ela chegou atrasada. ("She arrived late.") 
| | | |
| --- | --- | --- |
| Person | Portuguese pronoun | English |
| 1st person sg. | eu | I |
| 2nd person sg. | tu / você | you  |
| 3rd person sg. | ele / ela | he / she |
| 1st person pl. | nós | we |
| 2nd person pl. | vós / vocês | you |
| 3rd person pl. | eles / elas | they (masculine / feminine) |
There are a few things we should point out about those pronouns.
In many parts of Brazil, você is used as the second person singular (instead of tu), in informal situations. In formal situations, you can use:
O senhor ("the sir"): O senhor deseja um café? ("Fancy a coffee, sir?")
A senhora ("the madam"): A senhora precisa de algo? ("Need anything, madam?")
These three forms of address (você, o senhor, a senhora) all use third person singular conjugations. You can find out more in this article.
To refer to the first person plural, many Brazilian speakers use a gente, with the verbs conjugated in the second person singular.
Nós vamos comer pizza. ("We will eat pizza.")
A gente vai comer pizza. ("We will eat pizza.")
Vós is rarely used in Brazilian Portuguese, being considered extremely formal. To refer to the second person plural, you can use:
Vocês [informal]: Vocês sabem que horas são? ("Do you know what time it is?")
Os senhores [formal]: Os senhores podem aguardar aqui. ("You can wait here.")

Masculine form, used for a group of only men or men and women

As senhoras [formal]: As senhoras já podem entrar. ("You can already come in.")

Feminine form, used for a group of only women
2 – Reflexive Pronouns
In Portuguese, some verbs are reflexive. They indicate an action done by the subject to themselves. When using these verbs, an extra pronoun (called an object pronoun), is required. 
Person
Portuguese pronoun
Use it with
English
1st person sg.
me
eu ("I")
Eu me visto. ("I get dressed.")
Ela me acordou. ("She woke me up.")
2nd person sg.
te
tu ("you")
(Tu) te lembras dele? ("You remember him?")
3rd person sg.
se
ele / ela ("he" / "she")
você ("you")
a gente ("we")
Ele se vestiu. ("He got dressed.")
Você já se arrumou? ("Did you get ready?")
A gente se sentiu mal. ("We felt ill.")
1st person pl.
nos
nós ("we")
Nós nos assustamos. ("We got scared.")
2nd person pl.
vos
vós ("you")
Vós vos sentis bem? ("Do you feel well?")
3rd person pl.
se
eles / elas ("they" masculine / feminine)
vocês ("you")
Eles se perderam. ("They got lost.")
Vocês se penteiam? ("Did you brush your hair?" plural)
There are several rules involved regarding the correct position of the reflexive pronoun in Portuguese (before or after the verb). For informal conversational purposes, most Brazilian Portuguese speakers place the reflexive pronoun before the verb. 
3 – Demonstrative Pronouns
You can use demonstrative pronouns to talk about the objects around you.
Isto ("This") and its variations
When talking about something close to you (the speaker), you can use:
Isto ("This")

Isto é lindo! ("This is beautiful!")
Este / Esta ("This") – masculine and feminine form in the singular

Esta cadeira é pequena demais. ("This chair is too small.")  
Estes / Estas ("These") – masculine and feminine form in the plural

Estas panelas estão sujas. ("These pans are dirty.") 
Isto is not commonly used in spoken, casual Portuguese. A more popular option is isso:
Isso ("That") and its variations
When talking about something close to the other person (the listener), use:
Isso ("That")

Isso é pesado? ("Is that heavy?")
Esse / Essa ("That") – masculine and feminine form in the singular

Essa camisa é a sua cara! ("That shirt is so you!")
Esses / Essas – masculine and feminine form in the plural

Vocês podem usar esses lençóis. ("You can use those bedsheets.")
Even though isso means "that," it's very common for Portuguese speakers to use it to mean "this" as well. So in casual situations, you can use isso to talk about objects that are close to the speaker or the listener. 
Aquilo ("That") and its variations
This one is used when talking about something that is far from both you and the other party, whether physically or in terms of time.
Aquilo ("That")

Eu quero aquilo! ("I want that!")
Aquele / Aquela ("That") – masculine and feminine form in the singular

Aquele quadro é muito caro. ("That painting is very expensive.")
Aqueles / Aquelas ("Those") – masculine and feminine form in the plural

Aqueles shows foram inesquecíveis. ("Those concerts were unforgettable.")
4 – Interrogative Pronouns
Use these pronouns to ask questions:
Quem? ("Who?")
Quem chegou? ("Who arrived?")
O que? ("What?")
O que você quer comer? ("What do you want to eat?")
Qual? ("Which?")
Qual bolo você prefere? ("Which cake do you prefer?")
Quais são os livros que posso doar? ("Which are the books that I can give away?")
Quanto? ("How much?" / "How many?")
Quantos anos você têm? ("How old are you?")
Quantas caixas você quer? ("How many boxes do you want?")
Quanto custa essa casa? ("How much is this house?")
Notice that quem and que are invariable pronouns: they never change. Qual and quanto are variable pronouns, which means they change depending on the gender and number of what they're referring to.
5 – Indefinite Pronouns
Indefinite pronouns are great for talking about unspecified things—people, places, objects, you name it! Here are some of the most important ones:
Tudo ("Everything")
Todo / Toda ("All" masculine and feminine singular)
Todos / Todas ("All" / "Everyone" masculine and feminine plural)
Nada ("Nothing")
Nenhum / Nenhuma ("None" masculine and feminine)
Algo ("Something")
Algum / Alguma ("Some" / "Few" masculine and feminine singular)
Alguns / Algumas ("Some" / "Few" masculine and feminine plural)
Ninguém ("Nobody")
Alguém ("Somebody") 
Vários / Várias ("Several" masculine and feminine)
Muito / Muita ("A lot of" masculine and feminine)
Muitos / Muitas ("Many" masculine and feminine)
Pouco / Pouca ("Little" masculine and feminine)
Poucos / Poucas ("Few" masculine and feminine)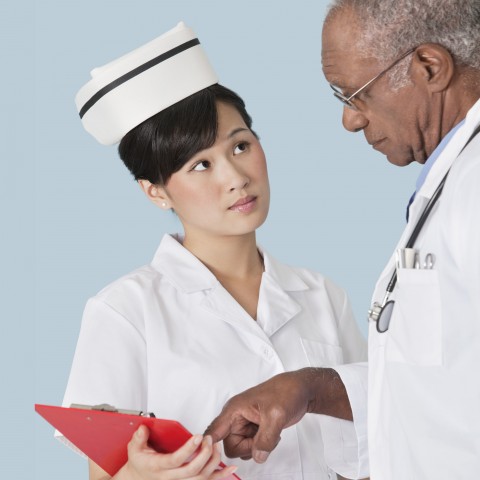 Ele é médico e ela é enfermeira. ("He is a doctor and she is a nurse.")
2. Counting: Numbers
As a beginner in Portuguese, you'll need to know at least a few numbers to get by in certain situations. If you learn how to count from 0 to 10, you'll have it covered!
| | |
| --- | --- |
| 0 | Zero |
| 1 | Um |
| 2 | Dois |
| 3 | Três |
| 4 | Quatro |
| 5 | Cinco |
| 6 | Seis |
| 7 | Sete |
| 8 | Oito |
| 9 | Nove |
| 10 | Dez |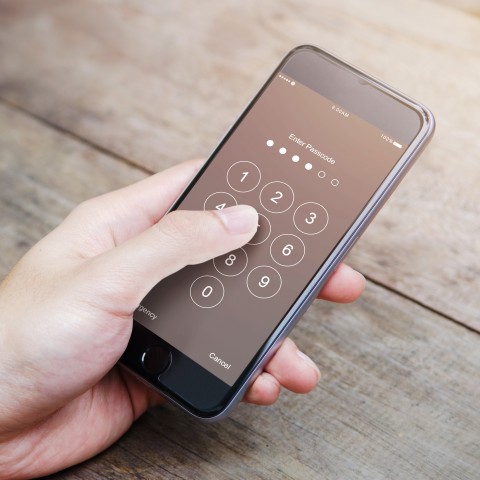 What numbers will you use in your passcode?
3. The Name of Things: Nouns
Once you have the pronouns and numbers down, you should focus on memorizing as many basic nouns as possible. The words below will serve as a useful addition to your Portuguese beginner vocabulary; they'll allow you to start forming sentences and you can even use them alone to get an urgent point across! 
1 – A Reminder: Articles
The first thing you need to remember about Portuguese nouns is that they have a gender and a number. For example, a noun could be masculine plural or feminine singular. 
A noun's gender and number will affect which articles you need to use with it (and it will also affect adjectives, as we'll see later).
Feminine Singular Nouns
Example: Cadeira ("Chair") 
Use the following articles:
Definite article a: a cadeira ("the chair") 
Indefinite article uma: uma cadeira ("a chair")
Feminine Plural Nouns
Example: Cadeiras ("Chairs") 
Use the following articles:
Definite article as: as cadeiras ("the chairs") 
Indefinite article umas: umas cadeiras ("some chairs")
Masculine Singular Nouns
Example: Livro ("Book") 
Use the following articles:
Definite article o: o livro ("the book") 
Indefinite article um: um livro ("a book")
Masculine Plural Nouns
Example: Livros ("Books") 
Use the following articles:
Definite article os: os livros ("the books") 
Indefinite article uns: uns livros ("some books")
To make it easier for you to remember the gender of nouns in the future, the following list will include the indefinite articles alongside the nouns. 
2 – Time
| | |
| --- | --- |
| Uma quarta-feira | Wednesday |
3 – People
Um amigo
Uma amiga
Friend (masculine)
Friend (feminine)
Um estudante
Uma estudante
Student (masculine)
Student (feminine)
Um vendedor
Uma vendedora
Salesman
Saleswoman
Um professor
Uma professora
Professor / Teacher (masculine)
Professor / Teacher (feminine)
Um médico
Uma médica
Medical doctor (masculine)
Medical doctor (feminine)
4 – Places
| | |
| --- | --- |
| Um supermercado | Supermarket |
5 – Transportation
6 – Home
| | |
| --- | --- |
| Uma sala de estar | Living room |
7 – School and Office Supplies